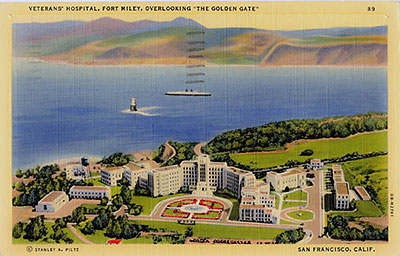 San Diego College for Women Linen Postcard Collection
Postmarked 24 June 1946
Courtesy Digital USD (university of San Diego)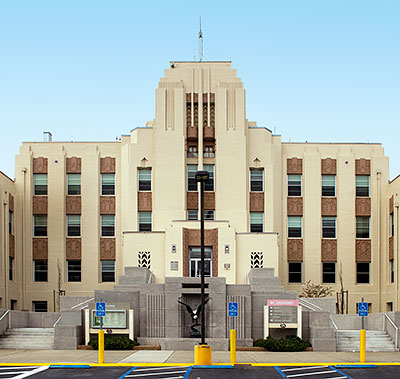 Administrative Building
37°46'56.0"N 122°30'15.4"W
8 April 2023
(Click Photos to Enlarge)
National Register #05001112
Veterans Affairs Medical Center Historic District
4150 Clement Street
Built 1934
In the late 19th century, this land was owned by the City and County of San Francisco and occupied by the Golden Gate Cemetery. Because of its strategic location overlooking the approaches to the Golden Gate, the Army bought part of the property in 1893.
In 1897, the Army began construction of the Reservation at Point Lobos. The first buildings included a half-dozen wood-frame barracks, storage buildings, an officers' club and administrative buildings. In 1902, the post, renamed Fort Miley, was completed and garrisoned as a subpost of the nearby Presidio of San Francisco.
In 1932, part of Fort Miley was acquired by the Veterans Administration for construction of a medical center. Most of Fort Miley, except for the batteries, was demolished.
Completed in 1934, the complex had twenty-one concrete buildings designed in the Art Deco style with Mayan inspired ornamentation. The buildings were clustered in the northern and eastern sections of the lushly landscaped campus to lessen the impact on the adjacent neighborhood and to provide space for patient convalescence and recreation.
Subsequent construction destroyed the pastoral character of the campus by adding over a dozen buildings whose design and location do not support the original vision. Many of the original 1934 buildings have been unsympathetically altered, particularly those with large additions. The boundaries of the historic district do not include most of the later buildings.
| Name | Year | Address | Remarks | Sort Address | Sort Name |
| --- | --- | --- | --- | --- | --- |
| Administration Building | 1934 | Building 1 | Originally the administration building, it now contains offices and research laboratories. | Building 01 | Administration Building |
| Hospital | 1934 | Building 2 | Originally the largest structure on the grounds, rising to a center tower of seven stories. As the centerpiece of the 1934 campus, it presided over a large landscaped lawn and circular drive. The construction of Building 200 in 1964 resulted in the removal of this lawn as well as the building's ornate main entrance. | Building 02 | Hospital |
| Boiler House | 1934 | Building 3 | | Building 03 | Boiler House |
| Hospital Wards | 1934 | Building 4 | | Building 04 | Hospital Wards |
| Radiology | 1934 | Building 5 | | Building 05 | Radiology |
| Dining Hall, Staff LQ | 1934 | Building 6 | | Building 06 | Dining Hall, Staff LQ |
| Recreation Hall | 1934 | Building 7 | | Building 07 | Recreation Hall |
| Nurses Quarters | 1934 | Building 8 | | Building 08 | Nurses Quarters |
| Officers Duplex | 1934 | Building 9 | | Building 09 | Officers Duplex |
| Officers Duplex | 1934 | Building 10 | | Building 10 | Officers Duplex |
| Director's Quarters | 1934 | Building 11 | | Building 11 | Director's Quarters |
| Officers Quarters | 1897 | Building 18 | | Building 18 | Officers Quarters |
| Garage | 1934 | Building 20 | | Building 20 | Garage |
| Flag Pole and Base | 1934 | Structure 27 | | Building 27 | Flag Pole and Base |