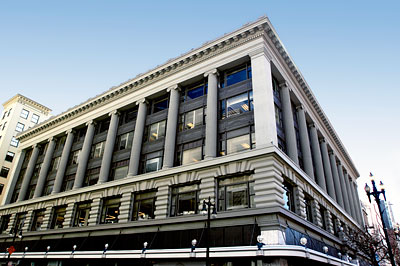 Hale Brothers Department Store
National Register #86003492: Hale Brothers Department Store
National Register #01000490: Boundary Increase
901 Market Street,
36 Fifth Street
423-27 and 429 Stevenson Street
Built 1912, 1924-1926
Hale Brothers Department Store, a neoclassical building designed by the Reid Brothers and built in 1912, was added to the National Register in 1986.
In 2001, three buildings built between 1924 and 1926 were added to the district. 36 Fifth Street is a ten-story steel and reinforced concrete building. The Stevenson Street buildings are twin eight-story, reinforced concrete structures. These three buildings were built as a grocery store, warehouses, and offices for the department store.
Centered in the photograph, West Side of Fifth Street, is the ten-story building at 36 Fifth Street. To the right, stands the Hale Brothers Department Store at the corner of market and Fifth Streets. At the left of the photograph are the art deco Chronicle building with its clock tower, then the Greek temple of the Old Mint.