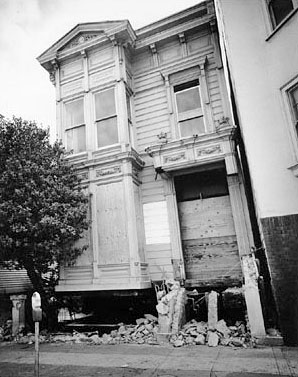 Photo Courtesy San Francisco Public Library
Written on back of photo:
1840 Eddy Street
Moved from 751 Turk Street in 1974
San Francisco Redevelopment Agency
National Register #73000437
Building at 1840-1842 Eddy Street
1840-1842 Eddy Street Between Scott and Divisadero
Built Circa 1885
During the 1960s and 1970s, the San Francisco Redevelopment Agency leveled entire Victorian neighborhoods in the Western Addition. The house at 1840 Eddy Street is one of several that were moved to new locations.
The San Francisco Public Library has a photograph of this residence. On the back is written:
1840 Eddy St., moved 1974.

HISTORY - Category I Building; 751 Turk Street; 762/20. Approximate date of construction: 1885. The Water Department has a contract on the house dated 1885 and signed by Martin O'Dea, a horseshoer, according to the City Directories of the time. Assessor's Office: ... Type of Construction: Two stories with basement, single family, wooden frame.

ARCHITECTURAL DESCRIPTION - This building is a neo-classic Victorian with simple lines.

In 1973, some Victorian residences were listed on the National Register of Historic Places and moved to save them from San Francisco Redevelopment Agency
slum clearance
. These residences were among the first NRHP listings in San Francisco. Prior to 1973, only fourteen San Francisco properties had been listed on the NRHP.
The following is excerpted from the NRHP Nomination Form for 33-35 Beideman Place:
Because of the zoning within the project area, this building has to be either demolished or moved to a more suitable location where it can be rehabilitated and preserved.

This will be one of eight buildings to be moved onto a two block development within the Western Addition. These two city blocks will be intensively developed with projects including scattered public housing, moderately priced private housing, private rehabilitation and rehabilitation for public bidding and resale by the San Francisco Redevelopment agency. A few rehabilitation projects have already been completed within these two blocks.