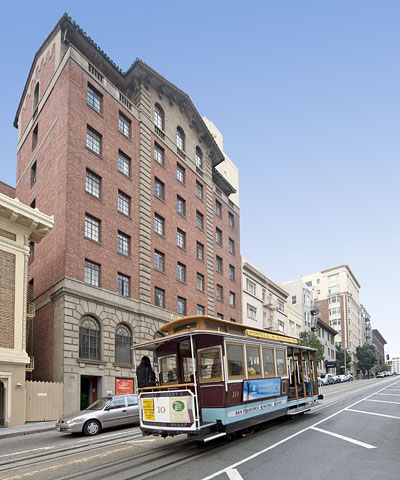 Powell & Mason Street Line
A Cable Car in Front of the
Clay Street Center
31 January 2012
(Click Photo to Zoom)
National Register #66000233
San Francisco Cable Cars
1200 Mason Street
The components of the San Francisco Cable Cars National Historic Landmark are:
Ten miles of rails
Cable cars
Roundtable turnarounds
Moving cable between the tracks and below ground
Car-barn and repair shop which also contains the huge winding mechanism
The San Francisco Cable Cars are the only cable cars still operating in a United States city. As a system of traction locomotion designed to accommodate even the steepest of grades, the cable cars have remained useful in this very hilly city, while they were replaced in places less hilly by electric street railways, and then trolleys and buses.
Andrew S. Hallidee, an Englishman who build aerial cables for use in the mines of the western United States, devised the contrivances used in San Francisco. He arranged a system by which the heavy cables, laid underground, would draw the cars up the steep hills of San Francisco. The first underground cable track was laid from Kearny Street over Nob Hill to Leavenworth, in August 1873.
In a relatively short time, eight companies had put down 112 miles of cable track in the city. Other cities, such as New York, Washington, Cincinnati, Boston, and Chicago, soon had their cable car system. But electric street cars were replacing cable cars almost everywhere by the early 1890's except on steep grades. It is this condition which prevails on many of downtown San Francisco's streets, some of them known for their very steep pitches, that prolonged the life of the cable car here.
Tracks today run on eight streets on Nob Hill, in Chinatown, and in North Beach:
Hyde between Beach and Washington
Washington between Hyde and Powell
Powell between Market and Jackson
Jackson between Hyde and Powell
Mason between Washington and Columbus
Columbus between Mason and Taylor
Taylor between Bay and Chestnut
Adapted from the NRHP Nomination Form