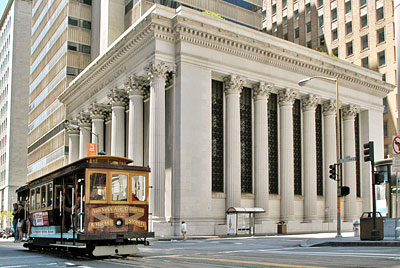 California Street Cable Car and Bank of California Building
26 May 2003
San Francisco Landmark #3
Bank of California
400 California Street at Sansome
Built 1906-1908
The Bank of California building by Bliss & Faville is clearly based upon the Knickerbocker Trust Company building in New York Ciy which had been built a few years earlier. Early in their careers, Walter Bliss and William Faville had worked in New York City for the architectural firm McKim, Mead & White which designed the Knickerbocker Trust Company building.
The building is a three-story classical temple with a central main banking room rising to the roof, an unbroken space some fifty feet in height. It is surrounded on three sides by a colossal colonnade, enclosing the main banking room. Six Corinthian columns face California Street, six face Sansome Street and six face Halleck Street. Once dwarfing its environment, the building is now itself dwarfed by its neighbors.
The Bank of California is the oldest incorporated commercial bank in California. It was founded in 1864 by Darius Ogden Mills, a Sacramento banker, and Wm. Chapman Ralston, steamship clerk and later a banker, called the "Man who built San Francisco". The bank helped finance the Southern Pacific Railroad, steamship lines, and especially the Comstock Mines in Nevada.
Adapted from San Francisco City Planning Resolution 6197 dated 14 March 1968