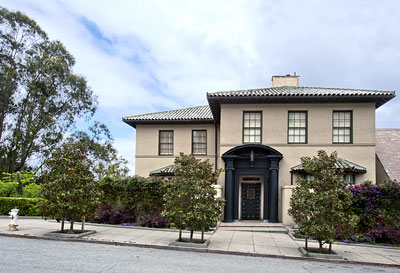 2990 Vallejo Street
14 May 2012
Bliss designed this house for himself and his wife. It occupies one of the most privileged sites in San Francisco, the Gold Coast of Pacific Heights bordering The Presidio high above San Francisco Bay.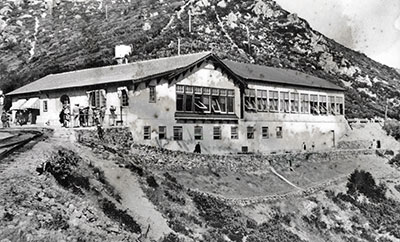 Tavern of Tamalpais Built in 1924
1927 Photograph Courtesy Marin County Free Library
The original tavern on Mt. Tamalpais was built at the upper terminus of the Mt. Tamalpais & Muir Woods Railway in 1896. It was destroyed by fire in 1923 and replaced in 1924 by a more modest building designed by Bliss & Faville. The Bliss & Faville building was razed in the 1950s after a windstorm destroyed the roof.
(Click Photos to Zoom)
Walter Danforth Bliss (1872-1956)
William Baker Faville (1866-1946)
Walter Danforth Bliss was born in Nevada. His father, a successful banker and entrepreneur, was able to send his five children to the Masssachusetts Institue of Technology. At MIT, Bliss met his future partner William Baker Faville who had been born in San Andreas, California, but reared in western New York State.
Bliss and Faville left MIT in 1895 to work for McKim, Mead & White in New York City. In 1898, they moved to San Francisco and formed a partnership. They leveraged the business connections of Bliss' father to secure residential commissions and build a reputation.
Charles F. Crocker selected the new firm to design the St. Francis Hotel on Union Square and sent the pair to Europe to study the finest hotels in London and Paris. In 1904, the hotel opened. Just two years later, it was being expanded from a U shape to an E shape when most of downtown San Francisco was destroyed by the 1906 Eathquake and Fire. The hotel was damaged, but it was repaired and reopened in 1907.
Bliss bought the lot at 2990 Vallejo Street in 1910 and built his house next door to that of architect Edgar Mathews. The house he built for himself and his wife was an early use of reinforced concrete in a residential building. From the front, the house appears to be two stories high, but it is located on a steep lot and in the rear it is at least eighty feet high. (Given the steepness of San Francisco's hills, many houses, like iceburgs, are largely hidden from view and more formidable than they at first appear.)
Bliss & Faville often imitated buildings designed by McKim, Mead & White. In those days, architectural critics did not fetishize originality for its own sake, and appropriation was praised rather than condemned:
The general resemblance of the [Bank of California to] the Knickerbocker Trust Company in New York will, of course, strike everyone who is familiar with the latter building; but the architects are to be congratulated rather than condemned for their frank and intelligent attempt to make under happier conditions a revised version of a good thing.

(Architectural Record 1906: 471)
Bliss and Faville terminated their partnership amicably in 1925.
Year
Address
City
Sort Address
Sort Name
Atascadero Administration Building
1914
6500 Palma Avenue
Atascadero
Palma
Atascadero Administration Building
Bank of California
1908
400 California Street
San Francisco
California 0400
Bank of California
Bank of Italy - Hallidie Plaza Branch
1920
1 Powell Street
San Francisco
Powell 0001
Bank of Italy - Hallidie Plaza Branch
Bliss Residence
1915
2990 Vallejo Street
San Francisco
Vallejo 2990
Bliss Residence
California State Building
1926
350 McAllister Street
San Francisco
McAllister 0350
California State Building
Carnegie Library - Richmond Branch
1914
351 9th Avenue
San Francisco
Avenue 09 0352
Carnegie Library - Richmond Branch
Flood (James Leary) Mansion
1912
2222 Broadway
San Francisco
Broadway 2222
Flood (James Leary) Mansion
Geary Theater
1910
415 Geary Street
San Francisco
Geary 0425
Geary Theater
Masonic Temple
1913
25 Van Ness Avenue
San Francisco
Van Ness 0025
Masonic Temple
Matson Building
1923
215 Market Street
San Francisco
Market 0215
Matson Building
Metropolitan Club
1916
640 Sutter Street
San Francisco
Sutter 0640
Metropolitan Club
Oakland Hotel
1912
260 13th Street
Oakland
Street 13 0260
Oakland Hotel
Oakland Public Library
1902
659 14th Street
Oakland
Street 14 0659
Oakland Public Library
Pacific Telephone Building
1924
444 Bush Street
San Francisco
Bush 0444
Pacific Telephone Building
Residence
1918
2332 Baker Street
San Francisco
Baker 2332
Residence
Residence
1917
2100 Broadway
San Francisco
Broadway 2100
Residence
Residence
1899
2898 Broadway
San Francisco
Broadway2898
Residence
Residence
1921
1950-1960 Jackson Street
San Francisco
Jackson 1950
Residence
Residence
1905
2520 Pacific Avenue
San Francisco
Pacific 2520
Residence
Residence
1906
3001 Pacific Avenue
San Francisco
Pacific 3001
Residence
Residence
1900
3020 Pacific
San Francisco
Pacific 3020
Residence
Residence
1909
18 Presidio Terrace
San Francisco
Presidio Terrace 0018
Residence
Residence
1905
2800 Scott Street
San Francisco
Scott 2800
Residence
Residence
1908
3540 Washington Street
San Francisco
Washington 3540
Residence
Residence
1900
3638 Washington Street
San Francisco
Washington 3638
Residence
Rialto Building
1910
116 New Montgomery Street
San Francisco
New Montgomery 0116
Rialto Building
Saint Francis Hotel
1907
335 Powell Street
San Francisco
Powell 0335
Saint Francis Hotel
Savings Union Bank
1908
1 Grant Avenue
San Francisco
Grant 0001
Savings Union Bank
Southern Pacific Depot
1926
5th and I Streets
Sacramento
Street 05
Southern Pacific Depot
Southern Pacific Headquarters
1916
1 Market Street
San Francisco
Market 0001
Southern Pacific Headquarters
Tavern on Mt. Tamalpais
1924
Mt. Tamalpais
Marin County
Mt. Tamalpais
Tavern on Mt. Tamalpais
United States Post Office
1918
315 West Sycamore Street
Willows
Sycamore 0315
United States Post Office
University Club
1912
800 Powell Street
San Francisco
Powell 0800
University Club