Walter Danforth Bliss (1872-1956)
William Baker Faville (1866-1946)
Walter Danforth Bliss was born in Nevada. William Baker Faville was born in San Andreas, California. They met while attending the Massachusetts Institute of Technology.
They left MIT in 1895 to work for McKim, Mead & White in New York City. In 1898, they moved to San Francisco and formed a partnership.
The partnership often imitated buildings designed by McKim, Mead & White. In those days, architectural critics did not fetishize originality for its own sake. Appropriation was praised rather than condemned:
The general resemblance of the [Bank of California to] the Knickerbocker Trust Company in New York will, of course, strike everyone who is familiar with the latter building; but the architects are to be congratulated rather than condemned for their frank and intelligent attempt to make under happier conditions a revised version of a good thing.

(Architectural Record 1906: 471)
Bliss and Faville terminated their partnership amicably in 1925.
Year
Address
City
Sort Address
Sort Name
Atascadero Administration Building
1914
6500 Palma Avenue
Atascadero
Palma
Atascadero Administration Building
Augustus Taylor House
3 Altree Court
Atherton
Altree
Augustus Taylor House
Bank of California
1908
400 California Street
San Francisco
California 0400
Bank of California
Bank of Italy in Hallidie Plaza
1920
1 Powell Street
San Francisco
Powell 0001
Bank of Italy in Hallidie Plaza
Bliss Residence
1915
2990 Vallejo Street
San Francisco
Vallejo 2990
Bliss Residence
Bourdette Building
1903
90 Second Street
San Francisco
!Street 02 0090
Bourdette Building
Building
1940
721 Market Street
San Francisco
Market 0721
Building
California State Building
1926
350 McAllister Street
San Francisco
McAllister 0350
California State Building
Carnegie Library - Richmond Branch
1914
351 9th Avenue
San Francisco
!Avenue 09 0352
Carnegie Library - Richmond Branch
Christian DeGuigne
891 Crystal Springs Road
Hillsborough
Crystal Spring
Christian DeGuigne
Eastman Kodak Building
1911
241 Battery Street
San Francisco
Battery 0241
Eastman Kodak Building
Edna Hopkins Lowery House
41 Lowery Drive
Atherton
Lowery
Edna Hopkins Lowery House
Flood (James Leary) Mansion
1912
2222 Broadway
San Francisco
Broadway 2222
Flood (James Leary) Mansion
Fred McNear House
60 Parkwood Drive
Atherton
Parkwood
Fred McNear House
Geary Theater
1910
415 Geary Street
San Francisco
Geary 0425
Geary Theater
Geary Theater Annex
1909
333 Mason Street
San Francisco
Mason 0333
Geary Theater Annex
Hellman-Ehrman Mansion
1903
Highway 89
Sugar Pine Point State Park
Highway 89
Hellman-Ehrman Mansion
Marine's Memorial Club
1927
609 Sutter Street
San Francisco
Sutter 0609
Marine's Memorial Club
Masonic Temple
1913
25 Van Ness Avenue
San Francisco
Van Ness 0025
Masonic Temple
Matson Building
1923
215 Market Street
San Francisco
Market 0215
Matson Building
Metropolitan Club
1916
640 Sutter Street
San Francisco
Sutter 0640
Metropolitan Club
Morris Plan Co.
1940
715-719 Market Street
San Francisco
Market 0715
Morris Plan Co.
Oakland Hotel
1912
260 13th Street
Oakland
!Street 13 0260
Oakland Hotel
Oakland Public Library
1902
659 14th Street
Oakland
!Street 14 0659
Oakland Public Library
Pacific Telephone Building
1924
444 Bush Street
San Francisco
Bush 0444
Pacific Telephone Building
Residence on Baker Street
1918
2332 Baker Street
San Francisco
Baker 2332
Residence on Baker Street
Residence on Broadway
1917
2100 Broadway
San Francisco
Broadway 2100
Residence on Broadway
Residence on Broadway
1899
2898 Broadway
San Francisco
Broadway2898
Residence on Broadway
Residence on Jackson Street
1921
1950-1960 Jackson Street
San Francisco
Jackson 1950
Residence on Jackson Street
Residence on Lyon Street
1916
2233 Lyon
San Francisco
Lyon 2233
Residence on Lyon Street
Residence on Pacific Avenue
1905
2520 Pacific Avenue
San Francisco
Pacific 2520
Residence on Pacific Avenue
Residence on Pacific Avenue
1906
3001 Pacific Avenue
San Francisco
Pacific 3001
Residence on Pacific Avenue
Residence on Pacific Avenue
1900
3020 Pacific
San Francisco
Pacific 3020
Residence on Pacific Avenue
Residence on Presidio Terrace
1909
18 Presidio Terrace
San Francisco
Presidio Terrace 0018
Residence on Presidio Terrace
Residence on Scott Street 2800
1905
2800 Scott Street
San Francisco
Scott 2800
Residence on Scott Street 2800
Residence on Washington Street
1908
3540 Washington Street
San Francisco
Washington 3540
Residence on Washington Street
Residence on Washington Street
1900
3638 Washington Street
San Francisco
Washington 3638
Residence on Washington Street
Rialto Building
1910
116 New Montgomery Street
San Francisco
New Montgomery 0116
Rialto Building
Saint Francis Hotel
1907
335 Powell Street
San Francisco
Powell 0335
Saint Francis Hotel
Saint Francis Hotel Streetlights
1910
335 Powell Street
San Francisco
Powell 0335
Saint Francis Hotel Streetlights
Savings Union Bank
1908
1 Grant Avenue
San Francisco
Grant 0001
Savings Union Bank
Southern Pacific Depot
1926
5th and I Streets
Sacramento
!Street 05
Southern Pacific Depot
Southern Pacific Headquarters
1916
1 Market Street
San Francisco
Market 0001
Southern Pacific Headquarters
Tahoe Tavern (Demolished 1969)
1901
West Lake Boulevard
Tahoe City
West Lake
Tahoe Tavern (Demolished 1969)
Tavern on Mt. Tamalpais
1924
Mt. Tamalpais
Marin County
Mt. Tamalpais
Tavern on Mt. Tamalpais
United States Post Office
1918
315 West Sycamore Street
Willows
Sycamore 0315
United States Post Office
University Club
1912
800 Powell Street
San Francisco
Powell 0800
University Club
Walter Danforth Tobey House
1001 Hamilton Avenue/567 Hale Street
Palo Alto
Hamilton
Walter Danforth Tobey House
2332 Baker Street
Built 1918
Photographed 19 December 2019
The 1976 Department of City Planning Architectural Survey was not kind to this building. The rating for architectural design was only 1 on a scale that ranges from -2 to 5.
The comment on the survey form read: "Lumpy, heavy but pleasant. Quite disappointing for this site."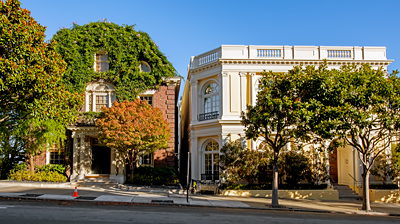 2898 Broadway Designed by Bliss & Faville and
2880 Broadway
Designed by Willis Polk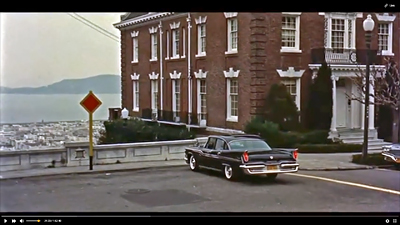 The house as seen in the 1960 movie, Portrait in Black, starring Lana Turner, Anthony Quinn, Sandra Dee, John Saxon, Anna May Wong and many others. At the end of the movie, Anthony Quinn falls to his death on the Baker Street stairs while chasing Sandra Dee out a window and along the rooftop - or a sound-stage rooftop with more elaborate dormers.
Note how unobstructed the view was in 1960 compared to 2019. Although San Francisco has a Tree Dispute Resolution Ordinance (Article 16.1 of the Public Works Code), trees are contentious here.
2898 Broadway
Built 1899
Photographed 17 October 2019
This beautifully proportioned, exquisitely detailed Dutch Colonial brick house was Walter Bliss' first commission; it was built for his own family. The house not only has white marble trim, but massive concrete foundations and piers set into rock. When one of the towering chimneys toppled in the 1906 earthquake, all of the chimneys were removed a s a precaution.
Source: Here Today: San Francisco's Architectural Heritage by the Junior League of San Francisco, Chronicle Books, 1968
1950-1960 Jackson Street
Photographed 19 September 2019
When we photographed the building, it housed the German Consulate General San Francisco.
2233 Lyon Street by Bliss & Faville
2255 Lyon Street by
Willis Polk
Photographed 24 December 2015
Both houses turn a side to Lyon Street to face each other across a landscaped open space. The uphill house on the corner (2255 Lyon Street) turns its back on prestigious Pacific Avenue.
Although this configuration is not typical in San Francisco, it is not uncommon in older residential neighborhoods where homes were designed by architects for affluent clients. Other examples are 2600 Washington Street by Edgar A. Mathews, 2241 Sacramento Street by Edward E. Young, and Mark Zuckerberg's home above Dolores Park.
Our website attributed both of these houses to Polk until a San Francisco architect contacted us with convincing evidence that 2233 Lyon Street was designed by Bliss & Faville.
3001 Pacific Avenue
Photographed 17 October 2019
When we photographed this building, a brass Egyptian Consulate sign was mounted by front door.
According to the website, Curbed San Francisco, the Egyptian government bought the property in 1960s and used it as their San Francisco consulate before moving operations to Los Angeles in 2016 and listing the building for sale at $22M.
In October 2019, the building was still on the market with the price reduced to $16M. The photographs on Sotheby's website showed a spacious but modest interior with no paneling, exotic hardwoods, chandeliers or other grand architectural gestures.
Hallidie Plaza Branch of the Bank of Italy
1 Powell Street
Built 1920
Photographed 12 January 2020
When this building was constructed, it was partly hidden from Market Street by other buildings which were demolished in 1973 to create space for Hallidie Plaza.
Bliss and Faville won a design contest entered by eleven invited competitors. Their Renaissanc/Baroque design resembles the University Club in New York City designed by McKim, Mead and White. An article in Architect and Engineer considered the line between inspiration and plagiarism but decided in favor of Blisss and Faville, stating that this is a building of unusual distinction.
Metropolitan Club
Originally Women's Athletic Club
640 Sutter Street
Built 1916 and Expanded in 1922
Photographed 28 November 2019
This Renaissance Palazzo is built of reinforced concrete clad with red brick and ornamented with terra cotta.
Tahoe Tavern
West Lake Boulevard
Tahoe City
Built 1901
Demolished 1969
Photograph Courtesy Western Nevada Historic Photo Collection
Walter Bliss designed the Tahoe Tavern for his father. Located a half mile south of Tahoe City, the brown-shingled hotel with its multiple gables was a favorite vacation spot for the wealthy from the Bay Area. Socialites from San Francisco ferried across to the Oakland Mole and took a train to the Tahoe Tavern, arriving on special spur rails that carried them directly to the hotel.
Source: NRHP Nomination for the Southern Pacific Railroad Company's Sacramento Depot
Hellman-Ehrman Mansion
Sugar Pine Point State Park
El Dorado County
Built 1903
Photographed 31 August 2014
Walter Danforth Bliss designed this Lake Tahoe summer home for San Francisco businessman I. W. Hellman. It was named Pine Lodge.
The building site was a sand hill. Tons of topsoil were brought from the back country to provide the base for lawns and gardens. Most of the building materials for the house were obtained locally, the granite from Meeks Bay and the lumber from Hobart Mills, north of Truckee.
The house was equipped with the modern utility systems including electric lights and complete indoor plumbing. Steam generators produced electricity until commercial power was available in 1927. Water was obtained from General Creek and later pumped directly from the Lake.
Hellman's daughter, Florence Hellman Ehrman inherited the estate.
In 1965 the house and grounds were acquired by the California State Park System. The house is maintained as a house museum and as an example of the opulent tradition in Tahoe summer homes.
Source: California Department of Parks and Recreation