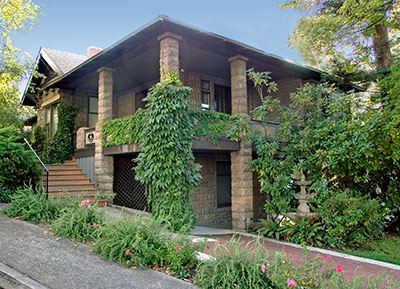 21 September 2006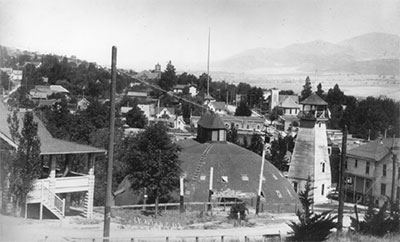 Nininger House in 1915
Photo from NRHP Nomination
The Nininger House is in the foreground at the left. The dome is the roof of the original Ashland Chautauqua building built in 1893 and enlarged in 1905. The Oregon Shakespeare Festival Elizabethan Theatre now stands where the Chautauqua building stood.
(Click Photos to Zoom)
National Register #82001506
Amos and Vera Nininger House
80 Hargadine Street
Ashland
Built 1909-1910
This Tudor Bungalow was begun in 1909 as a speculative project and completed in 1910.
It is the largest and most prominently sited house in the city having exterior walls constructed of hollow concrete block. Cast in molding machines which produced a naturalistic rock-faced surface, the block was manufactured locally by Thomas J. Downing, a builder whose special product may be seen in at least a dozen buildings and houses and in foundations and retaining walls constructed throughout Ashland between 1909 and 1912.
Downing sold the house to Ashland grocer Amos Nininger in 1911. Nininger and his wife, Vera, occupied the house for fifty years.
A distinctive feature of the house is the double veranda on east and north sides with its columns of concrete block. The blocks manufactured by Downing simulated coursed ashlar with a repetitive use of false rustication. The pattern creates the appearance of masonry units of varying size laid vertically as well as horizontally. It is a tour de force of tromp l'oeil, but the polite deception is given away in the unvarying regularity of the pattern.
Adapted from the NRHP nomination submitted in 1982.