Nevada Historical Marker 124
Boyd Toll Road
US 395 at Genoa Lane
East of Genoa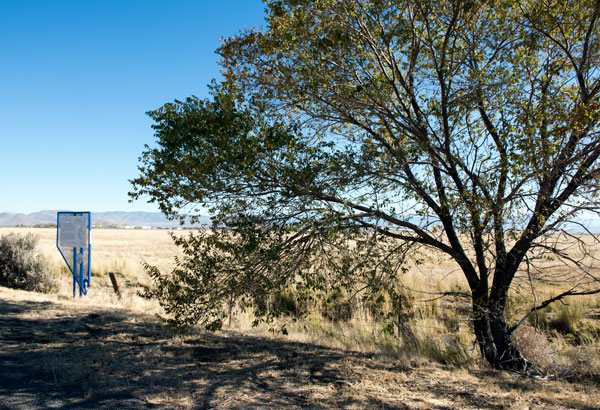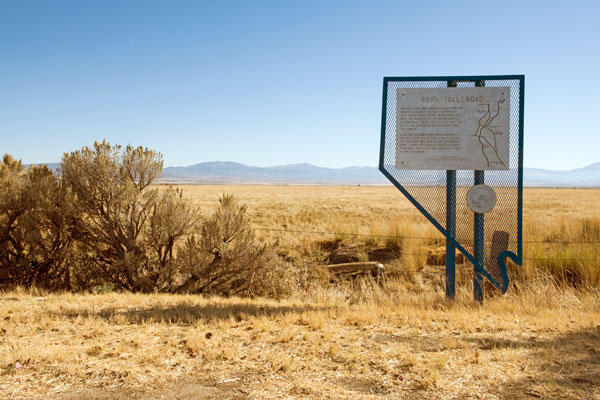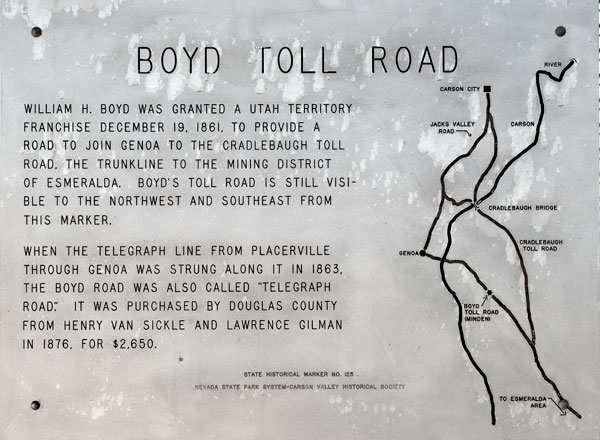 21 October 2016
(Click Photos to Zoom)
Boyd Toll Road
William H. Boyd was granted a Utah Territory Franchise December 19, 1861, to provide a road to join Genoa to the Cradlebaugh Toll Road, the trunkline to the mining district of Esmeralda. Boyd's Toll Road is still visible to the northwest and southeast from this marker.
When the telegraph line from Placerville through Genoa was strung along it in 1863, the Boyd Road was also called "Telegraph Road." It was purchased by Douglas County from Henry Van Sickle and Lawrence Gilman in 1876 for $2,650.
State Historical Marker No. 125
Nevada State Park System - Carson Valley Historical Society

US 395 is a four-lane, divided highway where cars and 18-wheelers travel at high speed. The tree makes this marker difficult to spot until you have zoomed past it. ("Recalculating. When it is safe, make a U-turn.")
In the glory days before the Oil Embargo of 1973 and 1974, the state of Nevada had no speed limits. To conserve gasoline,the federal government mandated a maximum speed limit of 55 miles per hour. States that did not comply would lose federal highway funding. Despite Nevada's need for speed and antipathy to all things federal, Nevada choked and mandated the 55 miles per hour limit.
In 1995, President Bill Clinton signed a bill which allowed states to restore prior speed limits. Thank-you, Mr. President.
As of 2016, the maximum speed limit in Nevada is 80 miles per hour.