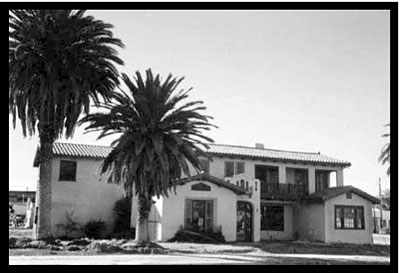 Date of Photograph Unknown
No Enlargement Available
Photo Courtesy
morellihouse.org
National Register #87001341
Whitehead House
333 North Seventh Street
Las Vegas
Built 1929
Burned 200
The Mission Revival residence was built for businessman Stephen R. Whitehead and his family in 1929. In 1942 after Whitehead's death, it was sold to the Sisters of the Holy Family and served as their convent for forty-three years.
In the year 2000, when the house was destroyed by fire, it was owned by the Junior League and awaiting restoration.
Source: Las Vegas Sun dated 26 July 2000.

Between the years 1985 and 2000, nine National Register properties in Nevada were lost to vandalism, neglect and renewal as reported by Sean Whaley in the Las Vegas Review-Journal dated 6 November 2000.