1939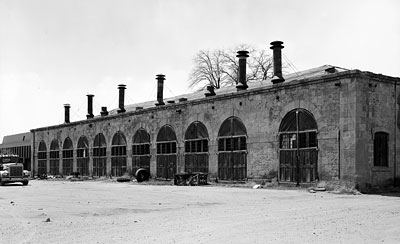 1972
Photos From
Historic American Buildings Survey
(Click Photos to Zoom)
National Register #77001508
Virginia & Truckee Railroad Shops
Between Plaza, Ann, Stewart and Sophia Streets
Carson City
Demolished 1991
The second photograph shows the Virginia and Truckee Railroad shops in 1972.
When the photograph was taken, the railroad had been out of business for 22 years, and the shops were being used by Hodges Transportation as an automotive testing center.
By the 1980s the building was empty and falling apart. In 1991 it was demolished.

Between the years 1985 and 2000, nine National Register properties in Nevada were lost to vandalism, neglect and renewal as reported by Sean Whaley in the Las Vegas Review-Journal dated 6 November 2000.