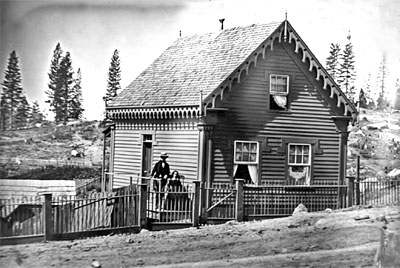 Copy of 1855 Daquerrotype
Submitted with NRHP Nomination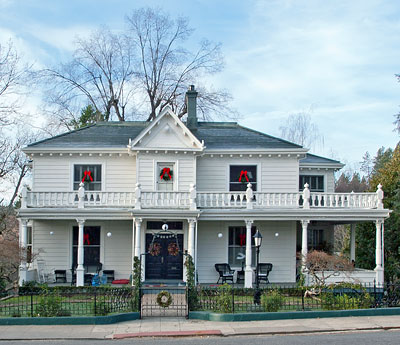 Photographed 14 December 2005
(Click Photos to Zoom)
National Register #80000825
Aaron A. Sargent House
449 Broad Street
Nevada City
Built 1856
Expanded 1900-1918
The Sargent House is located in one of Nevada City's earliest residential areas, known historically as the top of Broad Street on Nabob Hill.
The earliest known photo of Sargent's second home built in 1856 shows a two story wood balloon frame dwelling with horizontal redwood shiplap siding. Major alterations were made between 1900 and 1918 when rooms were added. Today, the house has an Italianate appearance.
The Sargent House is significant chiefly for its association with Aaron Augustus Sargent, a 49er from Massachusetts who was the first Nevada County resident to be elected to the United States Senate where he served from 1873 to 1879.
Sargent was a champion of the women's suffrage movement and author of the bill in 1878 which became known as the Anthony Amendment advocating "The right of citizens of the United States to vote shall not be denied or abridged by the United States, or any state on account of sex". This bill was reintroduced without any change in wording until finally passed by Congress more than forty years later.
In 1880 Sargent returned to California and established a law practice in San Francisco.
He was appointed by President Chester Arthur in 1882 as Envoy Extraordinary and Minister Plenipotentiary from the United States to the Court of Berlin in Prussia.
Adapted from the NRHP nomination.