California Historical Landmark 790
Yosemite Valley
Yosemite National Park
Granted to State of California in 1864
The plaque is located in the Visitor Center near the entrance to the theater.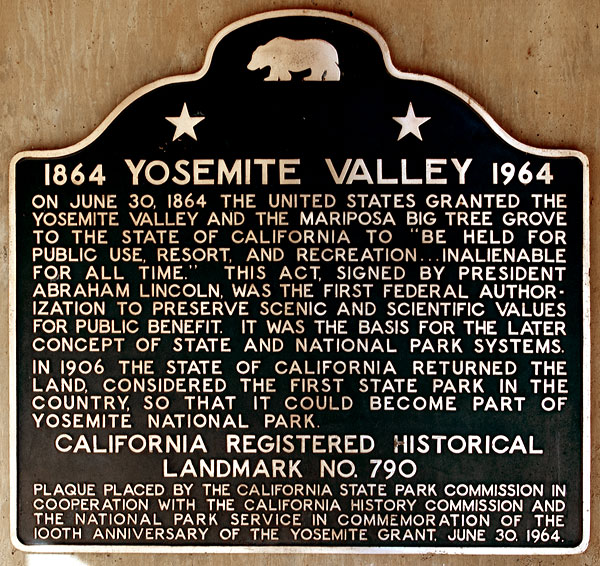 18 December 2006
(Click Photos to Zoom)
1864 Yosemite Valley 1964
On June 30, 1864 the United States granted the Yosemite Valley and the Mariposa Big Tree Grove to the State of California to "be held for public use, resort, and recreation...inalienable for all time." This act, signed by President Abraham Lincoln, was the first federal authorization to preserve scenic and scientific values for public benefit. It was the basis for the later concept of state and national park systems. In 1906 the State of California returned the land, considered the first state park in the country, so that it could become part of Yosemite National Park.
California Registered Historical Landmark No. 790
Plaque placed by the California State park Commission in cooperation with the California History Commission and the National Park Service in commemoration of the 100th anniversary of the Yosemite Grant, June 30, 1964.

Delaware North Forces the National Park Service to Rename Two National Historic Landmarks: The Ahwahnee Hotel and the Wawona Hotel
In 2015, Delaware North lost the concessions contract at Yosemite National Park.
As concessionaire, Delaware North operated the Ahwahnee Hotel (built 1926), Yosemite Lodge at the Falls, Curry Village (built 1914-1920), the Wawona Hotel (built 1879) and Badger Pass Ski Area. Delaware North claims that it owns the trademarks for these names as well as the name "Yosemite National Park."
Delaware North filed a $51 million lawsuit to prohibit future use of these names. The National Park Service is fighting this lawsuit - our tax dollars at work - and pending the outcome, the NPS has changed all of these names except Yosemite National Park.
Justice Department attorney John Robertson wrote in court papers that the company "wildly inflated" the value of the trademark names and "breached its duty of good faith and fair dealing." Delaware North "apparently embarked on a business model whereby it collects trademarks to the names of iconic property owned by the United States."
Delaware North continues to operate lodging in Sequoia and Kings Canyon National Parks and the Tenaya Lodge in Fish Camp near Yosemite National Park. Delaware North also operates the restaurant in the basement of the War Memorial Opera House in San Francisco.
Posted 15 January 2016