Hotel Ivanhoe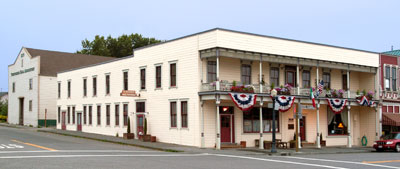 Portuguese Hall
and Hotel Ivanhoe
7 July 2007
(Click Photo to Zoom)
Hotel Ivanhoe
315 Main Street
Ferndale
Built 1875
The original Robert's Hotel was built on this site in 1870. After it was destroyed by fire in 1875, it was rebuilt to the same floorplan.
Sometime before 1915, the name was changed to Ferndale Hotel. By 1915, the name had been changed again, this time to Hotel Ivanhoe.
Numerous additions and improvements were made to this building throughout its commercial history as a hotel. In 1894, an addition provided a billiard, card and reading room.
In 1898, the south side was rebuilt to bring the building out to Ocean Avenue. The office, the dining room, the kitchen and the sample rooms were enlarged. Wash and toilet rooms were added. The original balcony on Main Street was replaced and the windows and doorways were rearranged. The hotel and adjoining two stores were then painted pure white.
The transformation was so great that local newspaper predicted that even valley residents and old-time guests would hardly recognize the hostelry.
In 1936, the false front with heavy a cornice above the upper story was removed. The gable roof was rebuilt as a flat roof with a plain parapet. Barring these changes, the Main Street façade is little changed since 1898.
The Hotel Ivanhoe contributes to the Ferndale Main Street Historic District which was listed on the National Register of Historic Places in 1993.