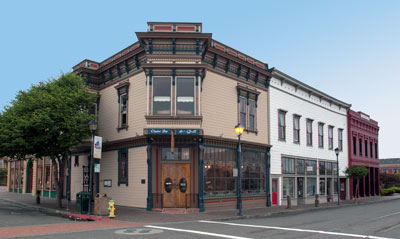 The Weaver Building, The Buhne Boarding House and The Janssen Building in the
Eureka Old Town Historic District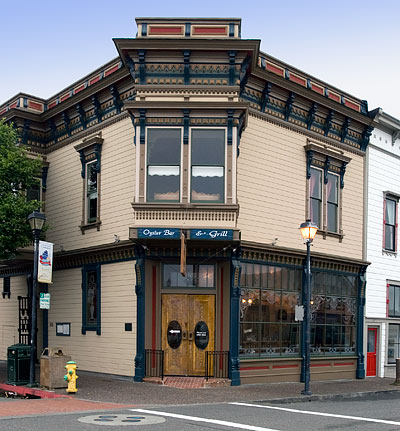 7 July 2007
(Click Photos to Zoom)
National Register #74000511
Weaver Building
102 F Street
Eureka
Built 1893
This Stick/Eastlake building is one of the few remaining structures on the waterfront suggesting the type of place it was in the late 19th century. Once the main street of Eureka, First Street was already being eclipsed by Second and Third Streets in the 1890s, and saloons were the principal remaining businesses along the waterfront.
The building, which opened as the Wave Saloon in 1893, represents a historic period in which First Street was a gathering place for loggers, sailors, and stevedores. Old timers remember the upstairs as one of the houses of prostitution along First Street.
In the 1920s the building was the Bluebird Cabaret, remembered as a bootlegging establishment. After the period of prohibition the business changed to The Golden State Cafe, but the building and the neighborhood were steadily declining.
Excerpted from the NRHP Nomination.

Since it was listed on the national Register, the building has been restored and the waterfront has been gentrified.