California Historical Landmark 281
O'Byrne Ferry
7242 O'Byrnes Ferry Road at Stanislaus River Bridge
Shores of Poker Flat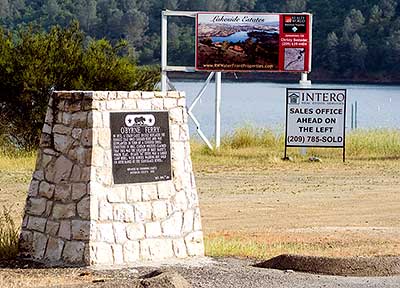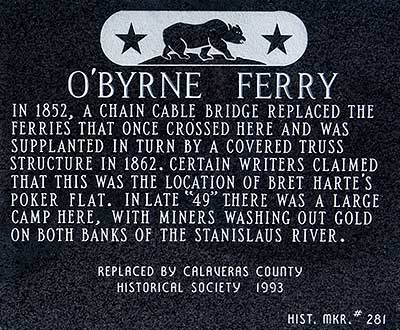 18 April 2008
(Click Photo to Zoom)
O'Byrne Ferry
In 1852 a chain cable bridge replaced the ferries that once crossed here and was supplanted in turn by a covered truss structure in 1862. Certain writers claimed this was the locale of Bret Harte's Poker Flat. In late "49" there was a large camp here, with miners washing out gold on both banks of the Stanislaus River.
Replaced by Calaveras County Historical Society 1993
Hist. Mkr. #281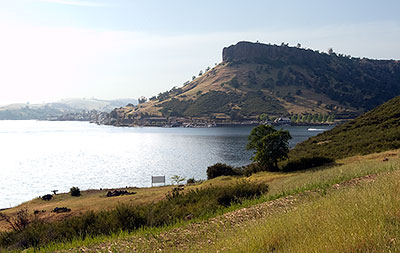 Tulloch Lake
18 April 2008
(Click Photo to Zoom)
The Stanislaus River is dammed about four miles upriver by the New Melones Dam and about two miles downriver by the Tulloch Dam. The O'Byrne Ferry plaque stands beside Tulloch Lake created in 1957 by the downstream dam. Most of the land around Tulloch Lake is privately owned, and much of it has been developed with luxury residences.

Robinson's Ferry once crossed the Stanislaus River upriver at a spot now flooded by New Melones Lake.
The O'Byrne Ferry plaque is located in an unincorporated area named Shores of Poker Flat, but it seems geographically improbable that the boomtown of Bret Harte's story, The Outcasts of Poker Flat, was situated anywhere near here.
In Harte's story, a change in the moral atmosphere of Poker Flat leads its citizens to exile the gambler Mr. Oakhurst along with The Duchess, Mother Shipton and Uncle Billy. The exiles take the road to Sandy Bar a "day's severe travel" away. Before nightfall, they are surrounded by conifers and granite cliffs and are forced to take shelter from the winter's first snow. Within a few days, a blizzard has buried their cabin in twenty feet of snow even though they can see smoke rising from Poker Flat in the distance.
Such a dolorous scene could have happened - and did happen - in the Donner Pass or the Carson Pass, but these altitudes are a hundred miles from here. It's difficult to imagine that a blizzard has ever dropped twenty feet of snow within a half day's mule ride from bucolic Shores of Poker Flat.