California Historical Landmark 440
Alameda Terminal of Transcontinental Railroad
Lincoln Avenue and Webster Street
Alameda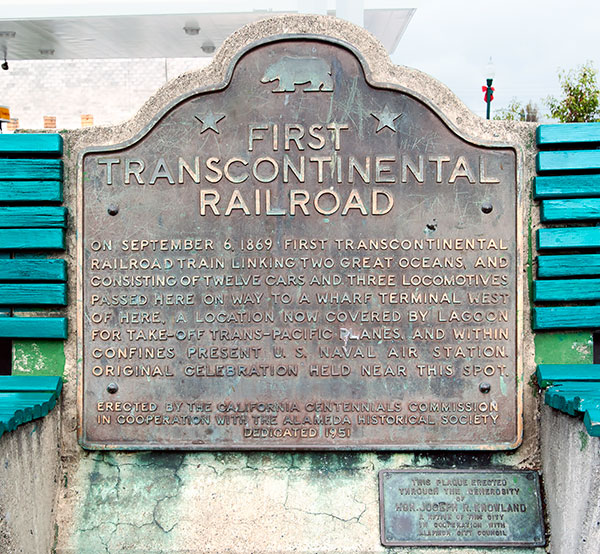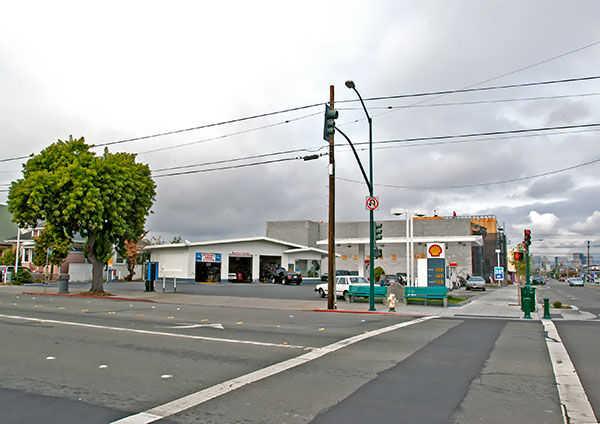 11 September 2005
(Click Photo to Zoom)
First Transcontinental Railroad
On September 6, 1869, first transcontinental railroad train linking two great oceans and consisting of twelve cars and three locomotives passed here on way to a wharf terminal west of here, a location now covered by lagoon for take-off trans-pacific planes, and within confines present U.S. Naval Air Station. Original celebration held near this spot.
Erected by the California Centennials Commission in cooperation with the Alameda Historical Society
Dedicated 1951

Sic transit gloria mundi.
Where the trains once passed, a service station stands. Not even a rusted track remains. It's not a pretty picture, this corner.
Everything mentioned on the plaque is gone. The wharf terminal? Gone. The lagoon? Gone. The Alameda Naval Air Station and transpacific sea planes like the China Clipper? Gone and gone.