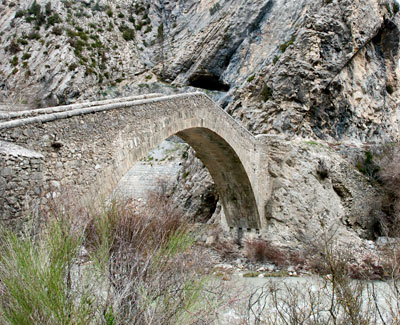 Pont de la Reine Jeanne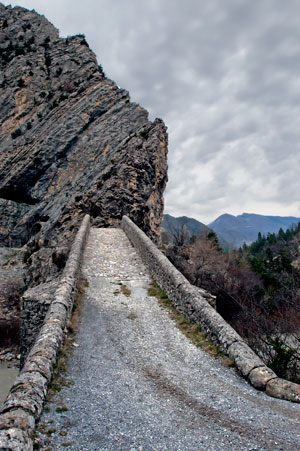 Roadway Width 2.8 Meters
Saint-Benoît
Pont de la Reine Jeanne crosses the Coulomp River just south of Saint Benoît. Originally named Pont de Benoît, the bridge was renamed Reine Jeanne possibly to honor Queen Jeanne of Naples (1326-1382).
Since 1296, various bridges have crossed the Coulomp River at this location. The current single-arch bridge was completed in 1729. Its length is 42.15 meters, its rise is 12.00 meters and its width is only 2.80 meters.
Pont de la Reine Jeanne was registered as an historical monument on 19 January 1928.

Population in the year 2007: 125
Elevation: 700 meters
Region: Provence-Alpes-Côte d'Azur
Department: Alpes-de-Haute-Provence
District: Castellane
Township: Annot
Source: Map-France