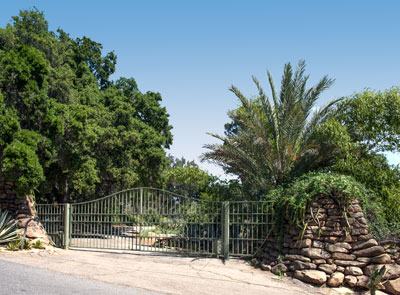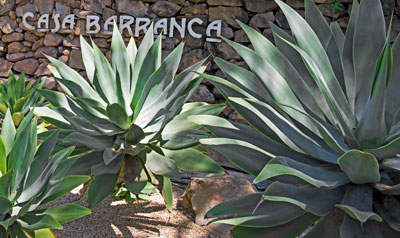 Casa Barranca is not visible from the road.
Photos Taken 28 March 2017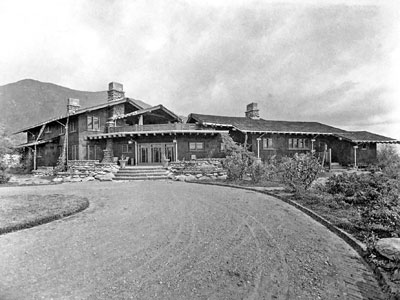 Photo Taken c1910
From
Wikipedia
(Click Photos to Zoom)
National Register #00001227
Charles Millard Pratt House
AKA Casa Barranca
1330 Foothill Road
Ojai
Built 1909
The Charles M. Pratt House, located in the foothills above Ojai, is a two-story, timber frame Arts and Crafts bungalow by Charles and Henry Greene. The house is located on a small bluff above a steep barranca (a deep gully or arroyo with steep sides).
The house is one of the five "ultimate bungalows" designed by Greene and Greene. Three are listed on the National Register of Historic places, and ten other buildings by Greene and Greene are so listed.
The Pratt House commission gave the Greene brothers the most freedom in design of any other work. The client had unlimited resources and the rural location allowed the architects to work out a unique solution to the site which placed the residence in a truly natural setting. This was the fulfillment of a lifelong interest of the architects.
The choice of the building site allowed the architects and the client to purchase an adjacent 38 acre parcel which contained the all important viewshed to which the house is directed. This parcel has been a part of the Pratt property since the creation of the residence and, today, remains in its native state.
The combination of the rural setting and the clients interest in rustic "natural" retreats led the architects to create a work less effected and more consistent with the precepts of the Arts and Crafts movement as laid down by John Ruskin. The structure and cladding of the building are almost completely honest and devoid of mannered veneers and false beams contained in the other 'ultimate bungalows".