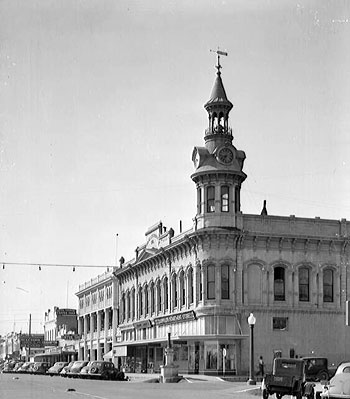 1938 Photograph Courtesy UC Davis
The building housed Zuckweiler's Department
Store in 1938
National Register #79000564
Cone and Kimball Building
747 Main Street
Red Bluff
Built 1886
Burned 1984
This two-story Italianate building with a corner tower was designed by A. A. Cook and named for the rancher Joseph Spencer Cone and the businessman Gorham Gates Kimball. It was built in 1886 and destroyed by fire in 1984.
Since the building burned, the site has been maintained as public open space and is now Cone & Kimball Plaza.
On Saturday, April 30, 2005, the 21st anniversary of the disaster that destroyed the heart of Red Bluff, ground was broken for a metal reproduction of the Cone and Kimball clocktower. The new clocktower, which includes a carillon, is approximately seventy-five feet high including the brick trimmed columns.