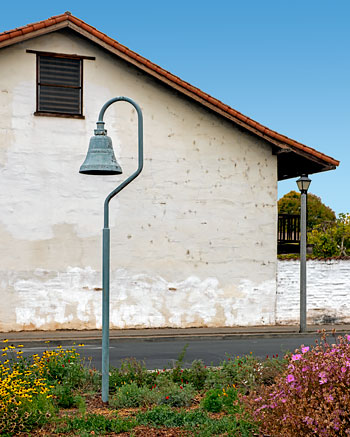 Mission San Francisco Solano
and commemorative mission bell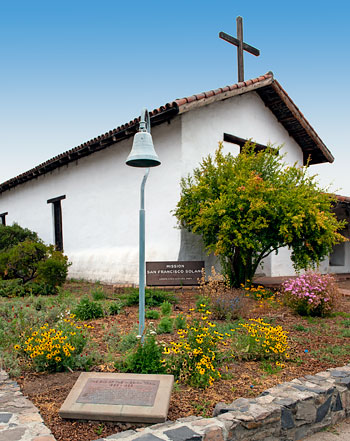 The End of the Mission Trail
1523 – 1823
The Mission Trail marked the three hundred years of Spanish-Mexican settlement. It traveled as far south as Guatemala and traversed Mexico to advance through eleven of our present day United States.
In 1823 Mission San Francisco Solano was founded, marking the last and northernmost outpost on the historic trail.
All Photos 29 August 2016
(Click Photos to Enlarge)
Mission Bells on El Camino Real
205 East Spain Street
Sonoma
Built 1846
In 1769, El Camino Real, or the King's Highway, was a footpath built by the Franciscans to link the California missions from San Diego to Sonoma. Much of US-101 between San Diego and Sonoma was built over El Camino Real.
Beginning in 1906, 85-pound commemorative bells, manufactured by the California Bell Company, were erected along the route of El Camino Real. These bells were hung on supports modeled after a shepherd's crook. By 1913, 450 bells were in place. By the 1960s, most of the bells had gone missing.
In the 21st century, CalTrans installed 555 new bells manufactured by the California Bell Company based on the original design.
The mission bells have come under attack as symbols of the enslavement of indigenous people by the Spanish. The City of Santa Cruz was the first California city to remove all bells from public property.