California Historical Landmark 5
Fort Ross
19005 Coast Highway
Fort Ross State Historic Park
Founded 1812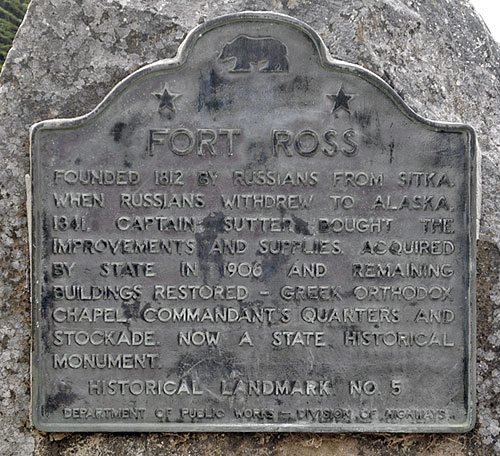 30 September 2004
(Click Photo to Zoom)
Fort Ross
Founded 1812 by Russians from Sitka. When Russians withdrew to Alaska, 1841, Captain Sutter bought the improvements and supplies. Acquired by State in 1906 and remaining buildings restored - Greek Orthodox Chapel, Commandant's Quarters and Stockade. Now a state historical monument.
Historical Landmark No. 5
Department of Public Works - Division of Highways

The rich don't go to parks. Parks are public. The rich go to Aspen. The rich go to St. Barths and St. Moritz.
Because the rich don't need parks and because they control government revenues and expenditures for their benefit, California state parks have been underfunded for years. Some have closed. Others have been kept open by volunteers and private funding.
Fort Ross, in danger of closing and returning to nature, was rescued by the Russians. The Russians! As Carl Nolte, San Francisco Chronicle staff writer, reported in the 23 June 2010 edition:
A Russian business conglomerate headed by one of the richest men in the world is riding to the rescue of California's Fort Ross State Historic Park on the Sonoma coast.

Viktor Vekselberg, the billionaire president of the Renova Group of companies, a major Russian firm, signed an agreement Tuesday night in San Francisco with Gov. Arnold Schwarzenegger to provide "substantial financial support" to keep Fort Ross open and to provide "a long-standing solution" to Fort Ross' budgetary difficulties....

"This is the first time a foreign nonprofit has come forward to preserve the history of another country," said Ruth Coleman, director of the California state park system.
Perhaps Mexico could fund the Petaluma Adobe. Perhaps Spain could fund the California missions.

Fort Ross and the Fort Ross Commanders' House are National Historic Landmarks.