California Historical Landmark 880
Fischer-Hanlon House
135 West G Street
Benicia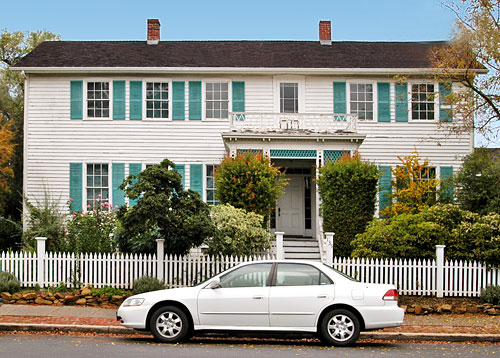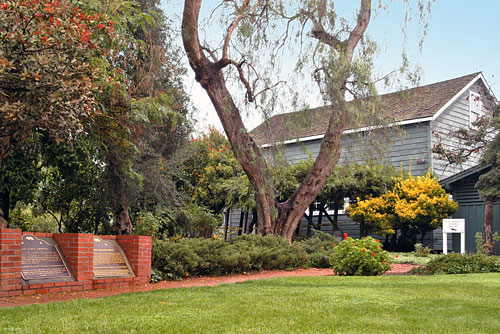 The plaque on the right commemorates the Fischer-Hanlon House.
The plaque on the left commemorates the
Old State Capitol
next door.
The buildings are dependencies of the Fischer-Hanlon House.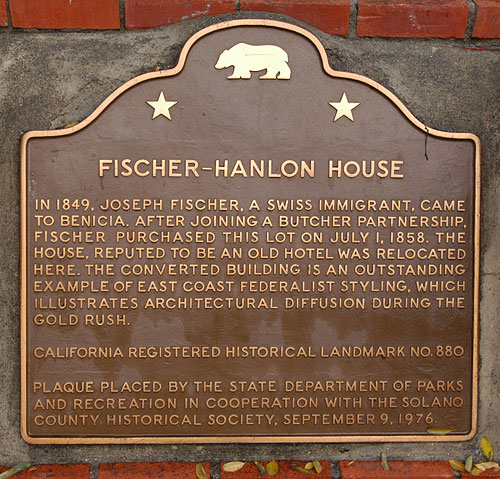 10 November 2004
(Click Photos to Zoom)
Fischer-Hanlon House
In 1849, Joseph Fischer, a Swiss immigrant, came to Benicia. After joining a butcher partnership, Fischer purchased this lot on July 1, 1858. The house, reputed to be an old hotel was relocated here. The converted building is an outstanding example of East Coast Federalist styling, which illustrates architectural diffusion during the Gold Rush.
California Registered Historical Landmark No. 880
Plaque placed by the State Department of Parks and Recreation in cooperation with the Solano County Historical Society, September 9, 1976.

The Fischer-Hanlon House is also National Register Listing #79000556.