California Landmark 166
French Gulch
Trinity Mountain Road at French Gulch Road
French Gulch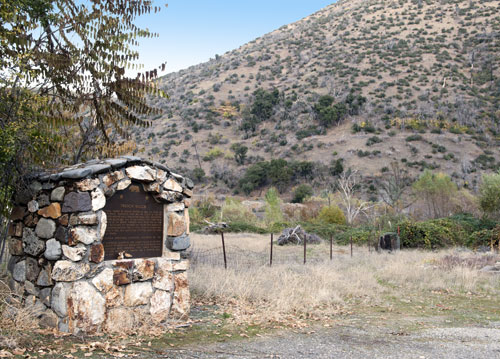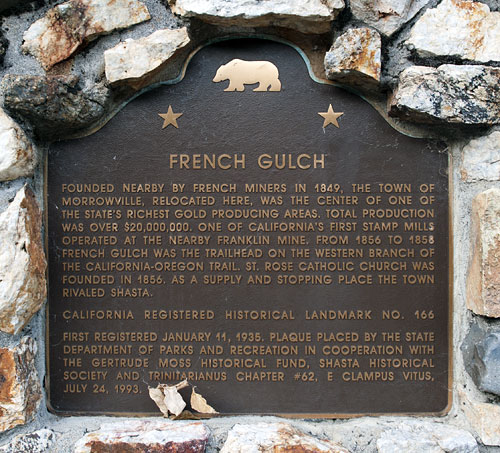 7 November 2011
(Click Photos to Zoom)
French Gulch
Founded nearby by French miners in 1849, the town of Morrowville, relocated here, was the center of one of the state's richest gold producing areas. Total production was over $20,000,000. One of California's first stamp mills operated at the nearby Franklin Mine. From 1856 to 1858 French Gulch was the trailhead on the western branch of the California-Oregon Trail. St. Rose Catholic Church was founded in 1856. As a supply and stopping place, the town rivaled Shasta.
California Registered Historical Landmark No. 166
First registered January 11, 1935. Plaque placed by the State Department of Parks and recreation in cooperation with the Gertrude Moss Historical Fund, Shasta Historical Society and Trinitarianus Chapter #62, E Clampus Vitus, July 24, 1993.

St. Rose Catholic Church, which stood next to the French Gulch historic marker, was destroyed by arson just five years after the marker was dedicated. Only parts of the foundation and the front stairs survived.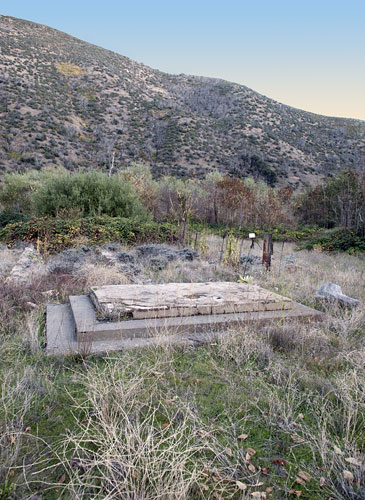 7 November 2011
(Click Photo to Zoom)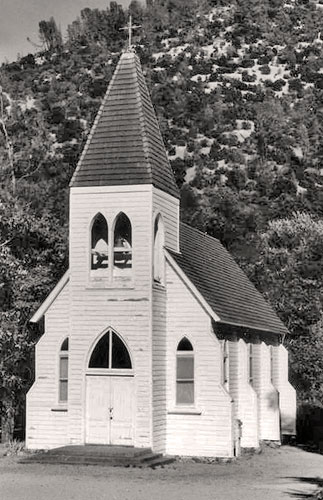 29 September 1986
: St. Rose Catholic Church once again blossomed as the pride and joy of French Gulch. After many years of hard work and several thousand dollars, the 86-year-old church was starting life anew thanks to a renovation by the French Gulch Progress Club. The renovations made the church look as good as it did on its birthday back in 1900.
From Today in History at redding.com.
19 November 1998: The historic St. Rose's Catholic Church in French Gulch burned to the ground. A passer-by reported the blaze at 11:27 p.m., said Capt. Jim Diehl of the California Department of Forestry and Fire Protection. Six engines responded, including members of the French Gulch Volunteer Fire Department, but crews could not save the structure. The cause of the fire was under investigation.
From Today in History at redding.com.
10 May 1999: Shasta College archeology students under the direction of Eric Ritter sifted through the ashes of the St. Rose Catholic Church in French Gulch looking for artifacts. Stakes and strings divided the site into a grid so researchers could keep track of where every item was found. They were trying to piece together blueprints so they could eventually reconstruct the church.
From Today in History at redding.com.