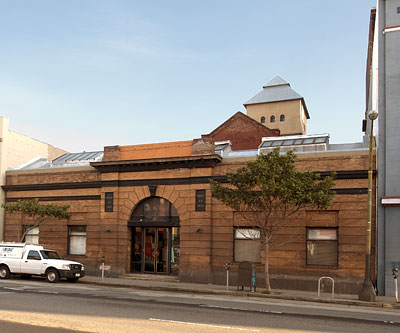 4 February 2012
(Click Photo to Zoom)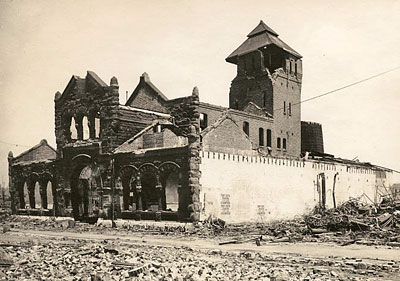 After the 1906 Earthquake
Photo Courtesy Bancroft Library at UC Berkeley
(Click Photos to Zoom)
San Francisco Landmark #246
James Lick Baths
165 Tenth Street
Built 1890
Rebuilt 1906
The following is excerpted from the Department of Parks and Recreation District Record study for Western SoMa Light Industrial & Residential Historic District.
The James Lick Baths building was constructed at 165 10th Street in 1890 to serve the working class population in the South of Market. It was rebuilt in 1906 following the earthquake and fire, utilizing as much of the original structure as possible in order to remain in operation.

The façade was redesigned from the heavy and outmoded Richardsonian Romanesque style to the lighter Renaissance Revival style.

The James Lick Baths was one of five public baths between about 1906 and 1920. The workers who used the baths did not just come from the immediate neighborhood, since the rebuilding of the South of Market was slow. Residents in flats, apartment buildings, and residential hotels within about a half-mile radius used the baths. Usage sharply declined after 1906 since many residents moved westward with the expanding city and residential buildings began providing their own bathing facilities.

The baths finally closed in 1919 due to financial difficulties. The building was converted to the People's Laundry, which operated at that location from 1920 to 1973.

The building currently houses an architectural firm.