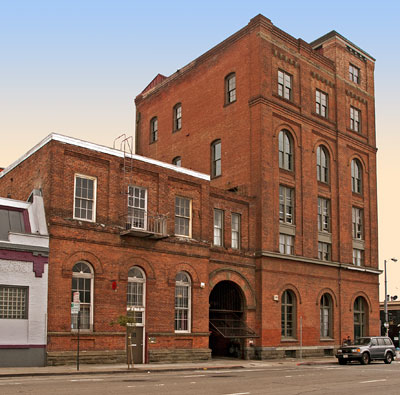 26 May 2008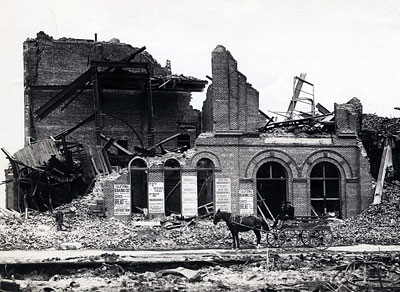 After the 1906 Earthquake
Photo Courtesy Bancroft Library at UC Berkeley
(Click Photos to Zoom)
San Francisco Landmark #199
Jackson Brewing Company
1475-1489 Folsom Street
319-351 11th Street
Built 1907 and 1912
The following is excerpted from the Department of Parks and Recreation District Record study for Western SoMa Light Industrial & Residential Historic District.
Built from 1906 to 1907 and 1912 to 1913, the Romanesque Revival buildings are constructed of brick with concrete foundations and wood and stone ornament. The engineer for the 1912 designs was James T. Ludlow, with Kaufman & Edwards as contractors (the previous designers are unknown).

The Jackson Brewing Company was founded by Thomas E. Green and Jacob Lynn in 1859. The William A. Fredericks family owned and managed the company from 1867 to 1920. Originally located at First Street between Howard and Folsom streets, the Fredericks family bought up property at Folsom and 11th Streets in 1905 and began to build a new complex. However, the 1906 earthquake and fire destroyed the partially-constructed buildings, and new buildings were constructed in the same location post-quake.

Though the brewery closed in 1920 due to Prohibition, the Fredericks family owned the property until 1947. The complex is one of the last remaining turn-of-the-century brewing complexes of this type, composed of a series of low-rise brick buildings, each with its own purpose and use. As a result of its historic and architectural significance, the Jackson Brewing Company buildings were listed in the National Register of Historic Places in 1993.