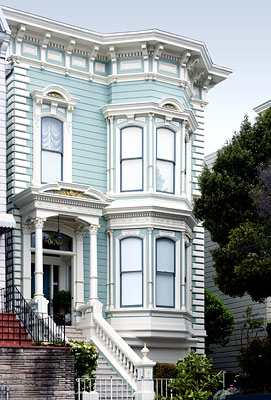 The Walker House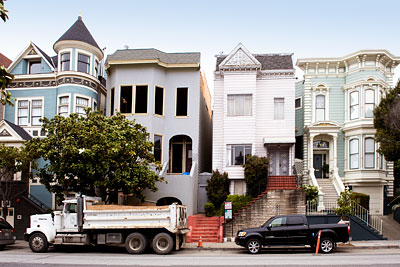 Victorian Devolution/Victorian Evolution
After Wold War II, many owners of San Francisco Victorian houses had the ornamentation removed and replaced by stucco, asbestos shingles or aluminum siding. The motivations varied, but they included reduced maintenance coats, fire protection and changing tastes.
Today, many homeowners are reversing this process. The building second from left is being renovated.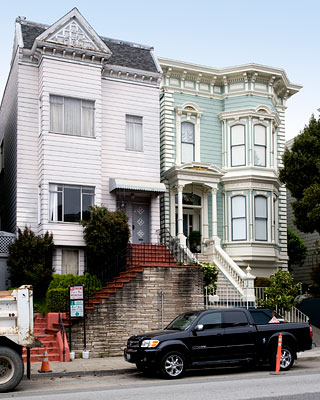 The Full Midcentury Monty
The house adjacent to the Walker House was stripped of all ornamentation except for a bit of original pediment.
It was sheathed in aluminum and Perma-StoneTM. Its doublehung wooden windows were replaced with stock aluminum windows.
All Photos 4 June 2010
(Click Photos to Zoom)
San Francisco Landmark #211
Walker House
2066 Pine Street Between Laguna and Buchanan
Lower Pacific Heights
Built 1878-1879
From 1921 to 1972 this Italianate Victorian housed the Madame C.J. Walker Home for Girls named for the first African American woman to become a millionaire.
Entrepreneur Walker made her fortune from her Midwestern cosmetic company.
San Francisco Japantown Better Neighborhood Plan Historic Context, 1880s-1980s, published by the San Francisco Planning Department, quotes an account written around 1920:
"There being no colored YWCA in the city, the Home must perform to some extent the duties of a "Y." Japanese and Chinese YWCA branches had been established in the 1910s, but the small number of Black women in San Francisco apparently did not merit a dedicated YWCA branch, as did Oakland and Los Angeles. Single women new to San Francisco found lodgings and job referrals at the Walker Home. In addition to providing social services, the house's social hall and large kitchen allowed for community gatherings. The Walker Club sponsored an annual Christmas event 'at which time the block is roped off so that the children may safely enjoy the games dancing and music.'"