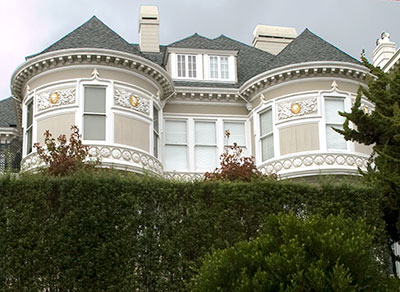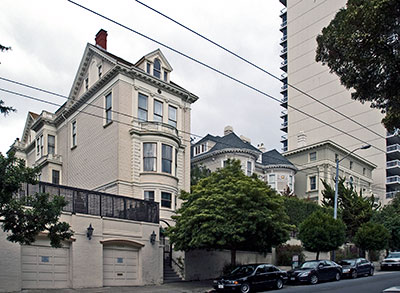 Slack, Chambers and Queen Mansions
8 February 2009
(Click Photos to Zoom)
North side of 2200 block of Sacramento.
From left to right are the 1900 Slack Mansion, the 1887 Chambers Mansion, the 1895 Queen House (San Francisco Landmark 198), and the 1964 Pacific Heights Towers, a high-rise, high-end condominium facing Lafayette Park.
San Francisco Landmark #119
Chambers Mansion
2220 Sacramento Street Between Laguna and Buchanan
Built 1887
This Queen Anne Victorian with Gothic and Tuscan detailing was designed by J. C. Mathews & Son.
This house was perhaps built for Richard Craig Chambers who perhaps made his fortune in the silver mines of Utah before moving to San Francisco in 1887. Although many web pages refer to Chambers as "Utah State Senator," Utah did not become a state until 1897, ten years after the Chambers Mansion was built. I failed to locate reliable facts about Chambers, not even on Mormon genealogy websites which should certainly have a record of all Utah Senators, even Utah Territorial Senators in the good of days of divinely and legally sanctioned plural marriage.
Lacking facts, let's move on to the colorful stuff.
According to an urban legend reported by many bloggers as well as Heather Knight in the 26 October 2001 edition of the Sam Francisco Chronicle, Chambers lived here with two nieces who hated each other. When he died in 1901, they inherited the property. The legend says that one sister built a house next door and moved into it, although the neighboring Queen and Slack Houses were built prior to 1901. The other sister remained in the Chambers Mansion and met a grisly and mysterious end. She was found cut almost in half. Her relatives maintained that she had suffered a "farm implementation [sic] accident," but others suspected that she was murdered by an insane family member who had escaped from confinement in the attic.

Not much of the Chambers Mansion is visible from the street. In the past few years, more and more of San Francisco's lovely old buildings are being hidden behind fences and hedges. The greatest loss is Danielle Steel's home located a few blocks from here on Lafayette Park.