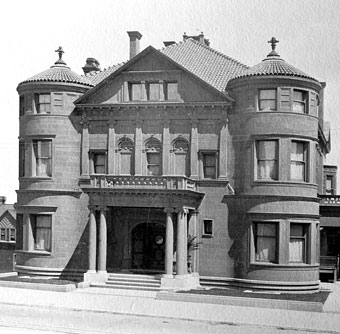 1910
From
Historical American Buildings Survey
San Francisco Landmark #75
Whittier Mansion
2090 Jackson Street At Laguna
Pacific Heights
Built 1894-1896
This massive Arizona sandstone building was built for William Franklin Whittier between 1894 and 1896. One of the few major houses of the late 19th century to survive to the present day, it is an interesting combination of massive Richardsonian Romanesque with Period styling. The architectural details of the interiors are exceptional in material and in preservation.
Occupied as a residence until the early 1940's, it was sold to the German Reich in 1941 as a San Francisco consulate. Seized by the Alien Property Custodian (later transferred to the Attorney General of the United States) during World War II, it was auctioned in 1950 to Mrs. Echo Leonetti. From her it passed to George and Mary Barton, thence to Robert Wilhelm and Isabelle and Paul Dessez, and finally to the California Historical Society in 1956.
Mortimer Adler's Institute of Philosophical Research occupied part of the building from 1952 to 1955.
Source: Historic American Buildings Survey Data Pages for the Whittier Mansion

The California Historical Society long ago moved to less flamboyant quarters on Mission Street. The Whittier Mansion is once again a private residence.

Students of the paranormal tell us that the Whittier Mansion is haunted and that over the years many people have seen shadowy outlines and felt ice cold presences around the wine cellar and maid's quarters. Most believe that it is the ghost of William Whittier, but at least one of the former docents believes that the ghost is actually Whittier's incorrigible son Billy still searching for a bottle of claret and a wench to serve it up.

The Whittier Mansion is also
National Register Listing #76000524
.