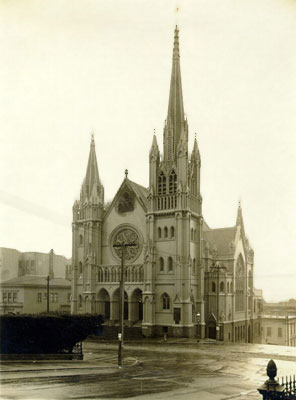 St. Paulus in 1899
From San Francisco Public Library Collection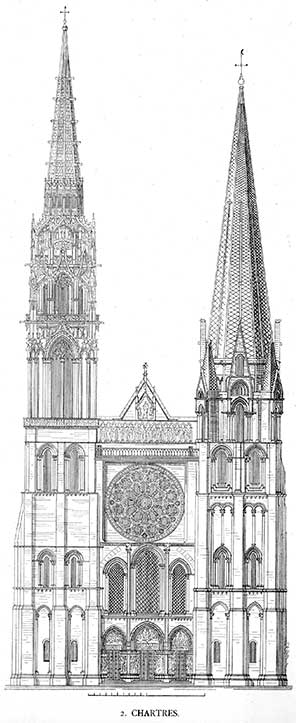 Chartres: West Elevation from
Die Kirchliche Baukunst des Abendlandes, 1887-1902
(
Wikipedia Commons
)
(Click Image to Zoom)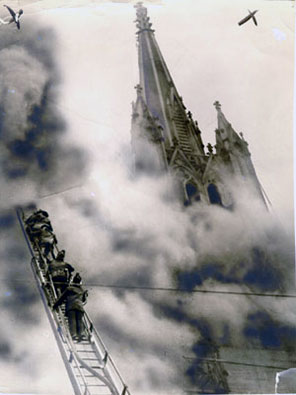 30 May 1940
From San Francisco Public Library Collection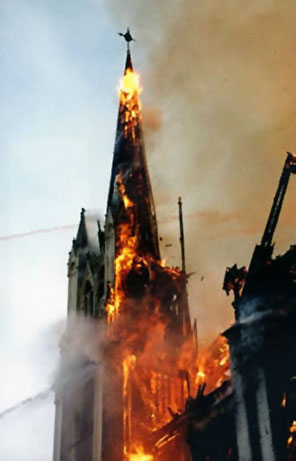 5 November 1995
From San Francisco Fire Department Collection
National Register #82002251
St. Paulus Lutheran Church
999 Eddy Street At Gough
Van Ness/Civic Center
Built 1893
Destroyed by Fire 1995
St. Paulus Lutheran Church had a wooden facade which replicated Chartres Cathedral. The church was built by German immigrants in their prosperous residential neighborhood where the streets were lined with luxurious Italianate row houses. (Only a few of these wonderful houses survive, notably the Rothschild House and the Stadtmuller House.)
All services were conducted in German until 1920 when some services in English were begun, but it was not until 1936 that English became the primary language of the church administration.
On 30 May 1940, the church was severely damaged by a fire which started in the main spire, but the congregation restored the building. The church again caught fire on 5 November 1995, and this time the fire was fatal.
You can see St. Paulus in Alfred Hitchcock's 1958 movie Vertigo. Scottie follows Madeleine to the McKittrick Hotel and parks his car near St. Paulus. The house which played the role of the McKittrick Hotel was razed a year after Hitchcock preserved it on film.