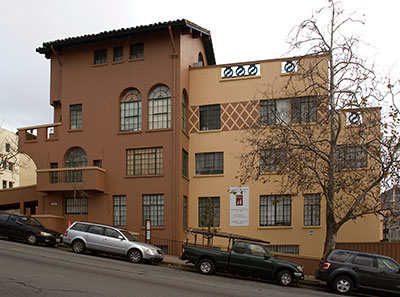 5 February 2009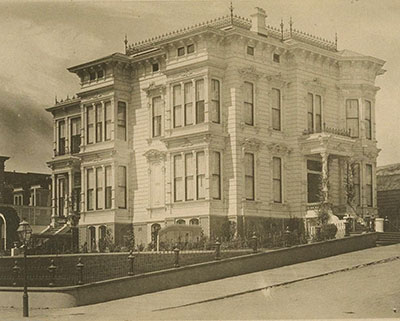 Fortmann Mansion at 1007 Gough Street
From the Book
Artistic Homes of California, 1887-1890
The Bancroft Library, University of California, Berkeley
(Click Images to Zoom)
San Francisco Landmark #111
Family Service Agency
1010 Gough Street at Eddy
Built 1928
Bernard Maybeck designed this Mediterranean building for the Associated Charities of San Francisco, an organization dating back to 1889. In 1938 Associated Charities changed its name to Family Service Agency to better reflect its mission and to eliminate the historical stigma attached to the word charity.
When Maybeck's building was new, most of its neighbors were exquisite Italianate row houses like the Rothschild House next door and the Stadtmuller House a block away.
For decades, the Family Service Agency shared the intersection of Eddy and Gough Streets with St. Paulus Lutheran Church and the twenty-room Henry F. Fortmann Mansion.
The Fortmann Mansion, built in 1888, was razed in 1959, one year after playing the role of the McKittrick Hotel in Alfred Hitchcock's Vertigo. (Many websites misidentify the Fortmann Mansion as the Portman Mansion, including this website before someone alerted us. I was skeptical until I found a convincing wedding notice in the San Francisco Call, Volume 87, Number 89, 27 February 1901: "Miss Emma Fortmanm and Dr. W. E. Stevens were married last evening at the home of the bride's parents Mr. and Mrs. Henry F. Fortmann, 1007 Gough Street."