California Historical Landmark 84
Rincon Hill
Bryant Street and Rincon Alley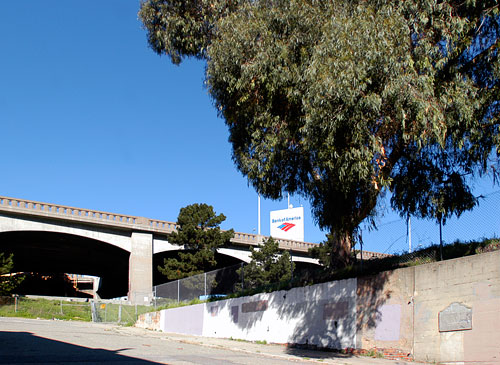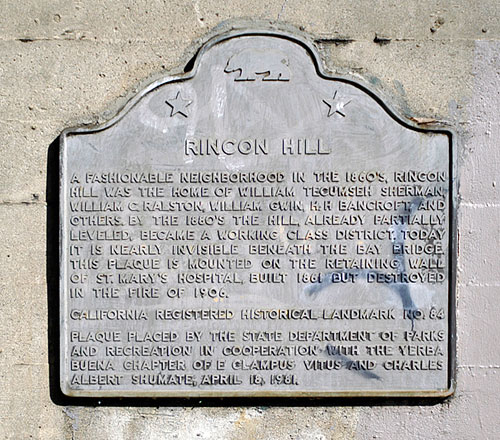 8 February 2004
(Click Photos to Zoom)
Rincon Hill
A fashionable neighborhood in the 1880's, Rincon Hill was the home of William Tecumseh Sherman, William C. Ralston, William Gwin, H.H. Bancroft and others. By the 1880's the hill, already partially leveled, became a working class district. Today it is nearly invisible beneath the Bay Bridge. This plaques is mounted on the retaining wall of St. Mary's Hospital, built in 1861 but destroyed in the fire of 1906.
California Registered Historical Landmark No. 84
Plaque placed by the State Department of Parks and Recreation in cooperation with the Yerba Buena Chapter of E Clampus Vitus and Charles Albert Shumate, April 18, 1981.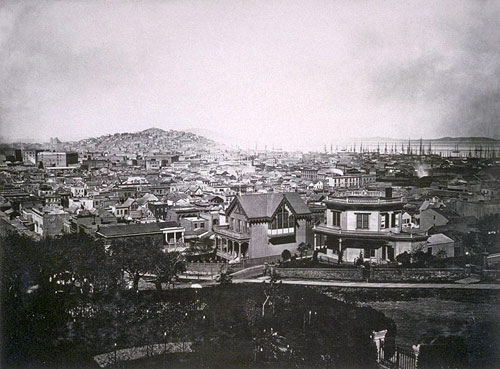 Looking North From Rincon Hill in 1875
Second & Folsom Sts. looking northeast toward Telegraph Hill. Octagonal house, foreground. Ca. 1875. (Rincon Hill was really dubbed "Nob Hill" first, on account of the Nabobs, but of course they went over to Nob Hill later on.)
Photograph and caption courtesy of UC Berkeley, Bancroft Library.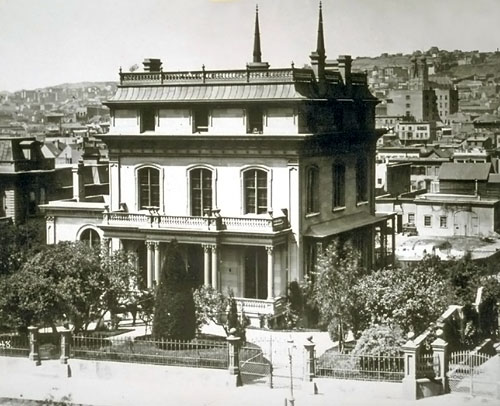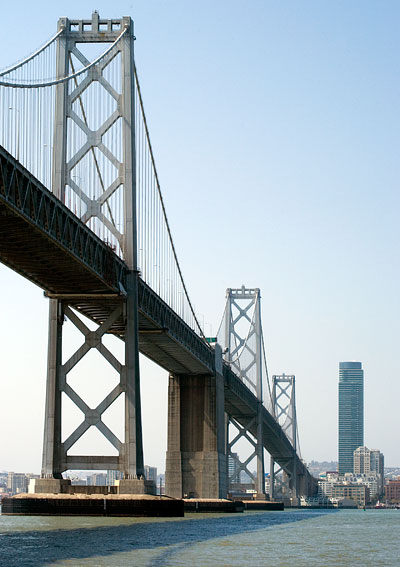 San Francisco Bay Bridge and One Rincon Hill
26 April 2009
(Click Photos to Zoom)
The western span of the San Francisco Bay Bridge is anchored to Rincon Hill. Construction on the bridge began on 9 July 1933, and the bridge opened to traffic on 12 November 1936.
Construction of One Rincon Hill began on 10 November 2005 after the 1955 clock tower building - visible in the first photograph on this page - was razed.
Like the Transamerica Pyramid, One Rincon Hill stands free of other skyscrapers, and both buildings can be seen from many vantages in San Francisco, not always to good effect. Both buildings appear at their best when viewed from a boat in the San Francisco Bay.
During construction, when the land around Rincon Alley was regraded, the plaque was removed and not replaced.

Some Missing California Plaques
When we visited the following sites, we were unable to locate a California commemorative plaque.
At some sites, it appeared that a California plaque had never been erected. At other sites, there was a base, but the plaque itself was missing. Some sites without California plaques had other historic markers, but they did not note that the site is a California Historical Landmark.