California Historical Landmark 82
Castillo De San Joaquín Site
Built 1794
Demolished 1853 For Construction of Fort Point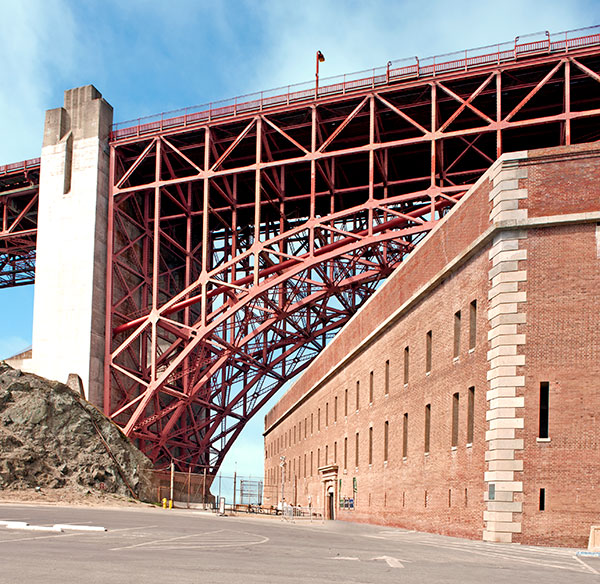 Marker is mounted on the fifth and sixth quoins aligned with the lower gun slots.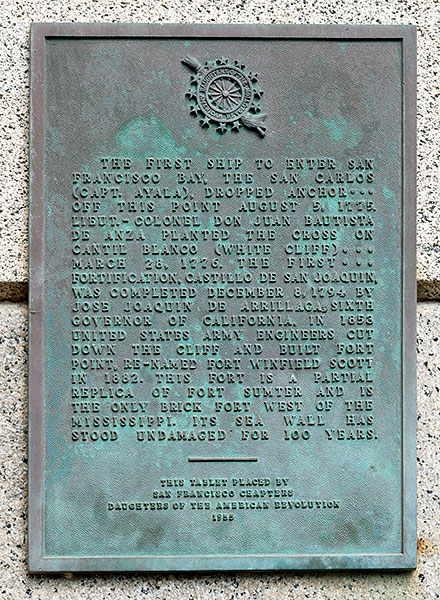 3 September 2013
(Click Photos to Zoom)
The first ship to enter San Francisco Bay, the San Carlos (Capt. Ayala), dropped anchor off this point August 5, 1775. Lieut.-Colonel Don Juan Bautista de Anza planted the cross on Cantil Blanco (White Cliff) March 28, 1776. The first fortification, Castillo de San Joaquin, was completed December 8, 1794 by Jose Joaquin de Arrillaga, sixth Governor of California. In 1853 United States Army engineers cut down the cliff and built Fort Point, re-named Fort Winfield Scott in 1882. This fort is a partial replica of Fort Sumter is the only brick fort west of the Mississippi. Its seawall has stood undamaged for 100 years.
This tablet placed by
San Francisco Chapters
Daughters of the American Revolution
1955