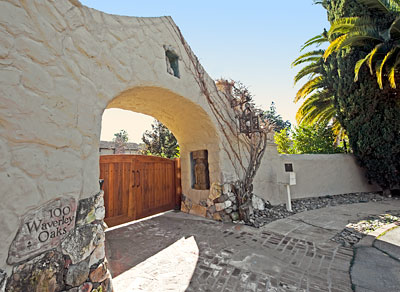 10 February 2010
(Click Photo to Zoom)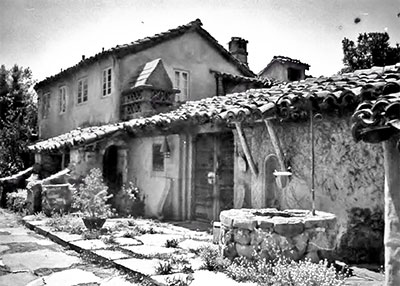 1979 Photograph Submitted with the NRHP Nomination
(Click Photo to Zoom)
National Register #80000863
Lemos House
100-110 Waverley Oaks Court
Palo Alto
Built 1933
The Spanish Colonial Revival Lemos House is one of a series of buildings which seem to result from an attitude of California as a magical place where anything can happen. It must thus be viewed, along with Hearst Castle, the Watts towers, the Mission Inn in Riverside and the Winchester house in San Jose as a personal fantasy completely fulfilled in three dimensions.
The hacienda itself is an outstanding work of art, containing a remarkable collection of art and architectural pieces as integral elements of its design. It combines the work of highly skilled craftsmen of several mediums and incorporates it into a remarkable whole.
Pedro de Lemos was considered a master designer and arts figure with national distinction in the field of art education. He taught decorative arts at Stanford and was, for twenty-eight years, director and curator of Stanford University's Museum and Art Gallery.

Source: NRHP Nomination Form submitted in the year 1979.

A plaque mounted on the wall beside the gate reads:
Hacienda de Lemos
Designed by Pedro de Lemos 1932-1933
Stanford Museum curator and art educator
As his studio home
Restored in 1996 and honored as the
Preservation project of the year
By Palo Alto - Stanford Heritage
On May 17, 1997
Private Property