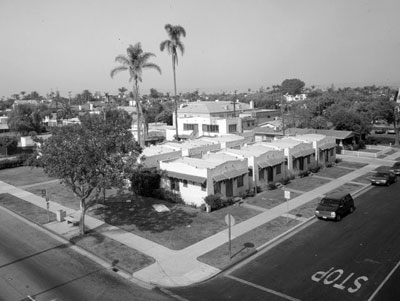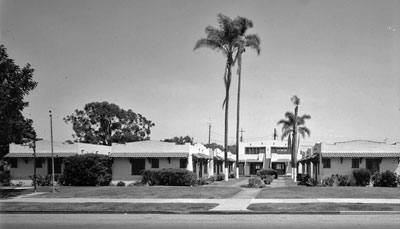 Historic American Buildings Survey
(Click Photos to Zoom)
National Register #92000319
Heilman Villas
1060-1090 7th Street and 706-720 Orange Avenue
Coronado
Built 1922
This collection of eleven buildings grouped around a courtyard represents a classic textbook example of a true Bungalow Court, a once common building type that ceased to be constructed after World War II.
Heilman Villas was one of only two such collections in the City of Coronado. Its architecture represents an outstanding example of the fully developed Spanish Colonial Revival/Pueblo styles in an almost miniaturist rendition. It conveys a strong sense of time and place clearly evocative of the Southern California ideal of the 1920's.
Source: Adapted from the NRHP nomination submitted in 1997.

The Heilman Villas were demolished and replaced by a new Coronado Police Department building at 700 Orange Avenue.