California Historical Landmark 68
El Campo Santo
2400 Block of San Diego Avenue
San Diego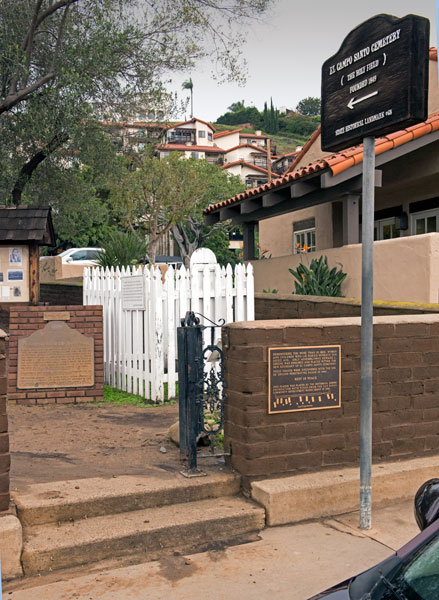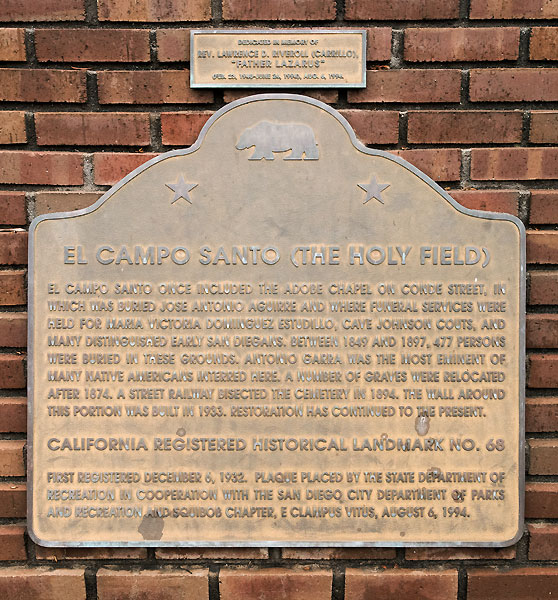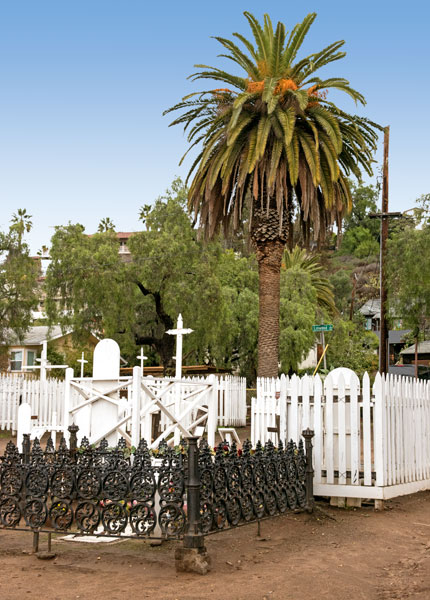 22 December 2016
(Click Photos to Zoom)
El Campo Santo (The Holy Field)
El Campo Santo once included the adobe chapel on Conde Street, in which were buried Jose Antonio Aguirre and where funeral services were held for Maria Victoria Dominguez Estudillo, Cave Johnson Couts, and many distinguished early San Diegans. Between 1849 and 1897, 477 persons were buried in these grounds. Antonio Garra was the most eminent of many Native Americans interred here. A number of graves were relocated after 1874. A street railway bisected the cemetery in 1894. The wall around this portion was built in 1933. Restoration has continued to the present.
California Registered Historical Landmark No. 68
First registered December 6, 1932. Plaque placed by the State Department of Parks and Recreation in cooperation with the San Diego City Department of Parks and Recreation and Squibob Chapter, E Clampus Vitus, August 6, 1994.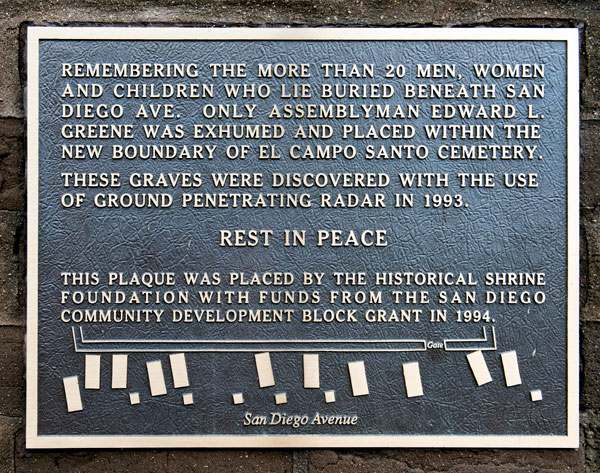 22 December 2016
(Click Photo to Zoom)
Remembering the more than 20 Men, Women and Children who lie buried beneath San Diego Ave. Only Assemblyman Edward L. Greene was exhumed and placed within the new boundary of El Campo Santo Cemetery.
These graves were discovered with the use of ground penetrating radar in 1993.
Rest In Peace.
This plaque was placed by the Historical Shrine Foundation with funds from the San Diego Community Block Grant in 1994.