California Historical Landmark 67
Serra Palm Site
Taylor Street and Presidio Drive In Presidio Park
San Diego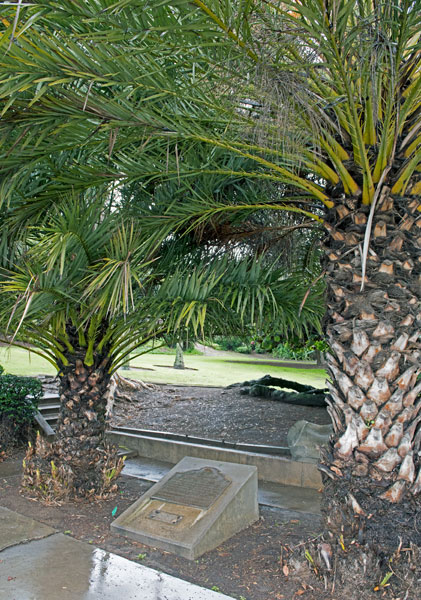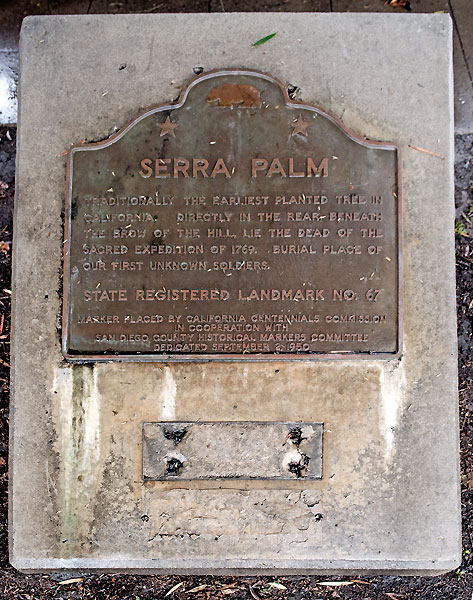 22 December 2016
(Click Photos to Zoom)
Serra Palm Site
Traditionally the earliest planted tree in California. Directly in the rear, beneath the brow of the hill, lie the dead of the sacred expedition of 1769. Burial place of our first unknown soldiers.
State Registered Landmark No. 67
Marker placed by California Centennials Commission in cooperation with San Diego County Historical Markers Committee
Dedicated September 2, 1950

The two missing markers under the California plaque were photographed by Syd Whittle on 18 March 2006.
The first marker read: The last dying Serra Palm was cut down on June 6, 1957. The marker was preserved by Archie and Margaret O'Neal, and rededicated by Squibob Chapter, E Clampus Vitus on December 6, 1980.
The second marker read: San Diego People for Trees on July 16, 1995 dedicated these Date Palms to commemorate the 1769 planting of the Serra Trees.