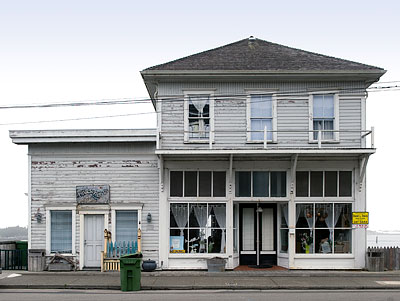 Breuer Building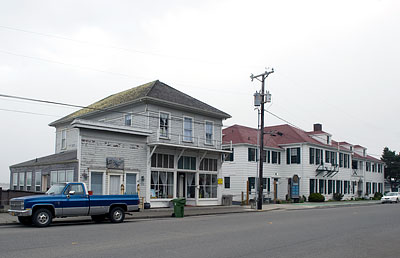 Breuer Building and
Coquille River Life Boat Station
21 September 2010
(Click Photos To Zoom)
National Register #92001308
Breuer Building
460 First Street SW
Bandon
Built 1905
The Breuer Building was built for Michael Breuer at the mouth of the Coquille River to sell boots, shoes and gents furnishings. It has been in nearly continuous use as a retail outlet since 1905.
During half of this time, it was occupied by Breuer, an industrious Austrian emigré and early homesteader on the Middle Fork of the Coquille.
That the building has survived so little altered in substance and appearance from the era when Bandon was a busy lumber port and its business center was built on pilings, is remarkable because of two fires which devastated the town in 1914 and again in 1936. After the 1936 fire destroyed all but sixteen of Bandon's five hundred buildings, the commercial district was dispersed, partially rebuilt on the river, and partially developed along the Roosevelt Coast Highway (US 101).
Adapted from the NRHP nomination submitted in August 1992.

When we published this web page in November 2010, the Breuer Building contained a hotel named River House, but the building was on the market with an asking price of $499,000.