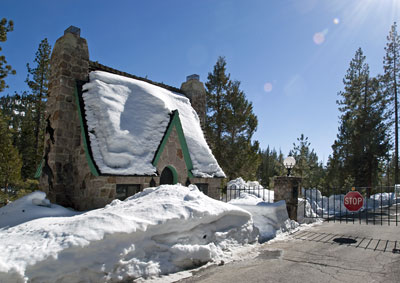 Gatekeeper's House and Entry Gate
The Gatekeeper's house was designed by DeLongchamps and O'Brien on drawings dated December 13, 1937. On those drawings it was designated "Ranger Station." The gate consists of two stone gateposts, a hinged gate, and a fence between the south gatepost and the Gatekeeper's House.
28 February 2008
(Click Photo to Zoom)
National Register #00001207
Whittell Estate (Thunderbird Lodge)
5000 State Route 28
Incline Village
George Whittell Jr. was a colorful, socially prominent, investor who managed substantial commercial holdings in San Francisco and at one time controlled almost the entire Nevada shoreline of Lake Tahoe. Whittell's control of much of the eastern shore of Lake Tahoe and his resolute opposition to development of his property contributed to the conservation of the vital portions of Lake Tahoe's shoreline.
The Whittell Estate is one of the last and best examples of a great residential estate on Lake Tahoe from the period in which prominent San Francisco society built homes on Lake Tahoe; as an outstanding example of an approach to architectural design that is intended to be in harmony with its setting; as a representative example of a high of level building crafts stone masonry, iron work, and wood work; and as an example of the work of Frederic J. DeLongchamps, who served as Nevada State Architect and who was Nevada's most prominent architect.
The 5.61-acre estate is located on land that slopes toward the lake. The main buildings on the estate consist of a main house sited on the shoreline, four cottages for staff and guests, a gate house at the entry to the estate on State Highway 28, an Elephant House, Lighthouse, and Boat House. The buildings of the estate are connected to each other by a series of paths. The buildings, structures and landscape features that comprise the Whittell Estate are sited so as to be subordinate to and in harmony with the existing topography, rock outcroppings, and vegetation.
Source: NRHP Nomination Form


The Whittell Estate, managed by the Thunderbird Lodge Preservation Society, is open to the public during the summer. In winter, it is available for private events.