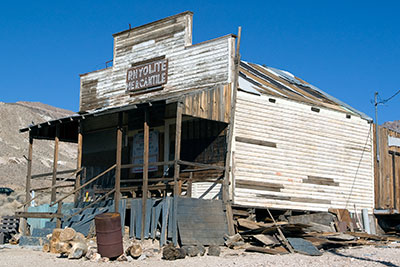 Rhyolite Mercantile Store
Rhyolite
State Route 374 West of US 95
Rhyolite
Founded 1904
Rhyolite's birth was brought about by Shorty Harris and E. L. Cross, who were prospecting in the area in 1904.
They found quartz all over a hill, and as Shorty described it:
The quartz was just full of free gold... it was the original bullfrog rock... this banner is a crackerjack. The district is going to be the banner camp of Nevada. I say so once and I'll say it again.
At that time there was only one other person in the whole area: Old Man Beatty who lived in a ranch with his family five miles away. Soon the rush was on and several camps were set up including Bullfrog, the Amargosa and a settlement between them called Jumpertown.
A townsite was laid out nearby and given the name Rhyolite from the silica-rich volcanic rock in the area.
Source: National Park Service