Nevada Historical Marker 242
Southern Nevada Consolidated Telephone-Telegraph Company Building
206 East Ramsey Street
Goldfield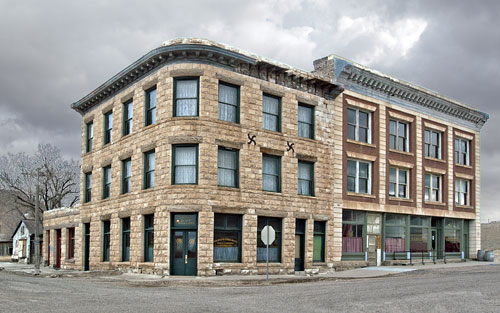 22 February 2007
(Click Photo to Zoom)
Southern Nevada Consolidated Telephone-Telegraph Company Building
This was the communications center of Goldfield from 1906 until 1963. From 1904 to 1920, Goldfield boomed as a gold producing center. It was the largest (20,000 plus) city in Nevada during that period, having four railroads and other modern conveniences. The building was one of a few spared by a fire that destroyed 53 blocks of the downtown area in 1923.
Today, it is one of the few unspoiled examples of the work of the craftsmen of the early 1900 era, and an example of the business life in the Tonopah/Goldfield area from the years when the mines were producing millions and bringing new prosperity to the State of Nevada.

If it hadda been a rattlesnake, I'd be resting in Goldfield today instead of sitting at my computer in Frisco...
The SNCTTC building is neither of the two large buildings. It's the itty-bitty, one-story stone building with one door and two windows and a Nevada historic marker just barely visible in the photograph.
But I somehow missed seeing the marker when I was standing on the corner with my trusty Nikon.
The impressive stone building at the intersection of Ramsey and Columbia Streets is the Goldfield Consolidated Mines Company Building. Its neighbor on Columbia Street is the Curtis and Ish Building, one of only five remaining pre-1923 commercial buildings in Goldfield.