Historic Sites and Points of Interest in Elko County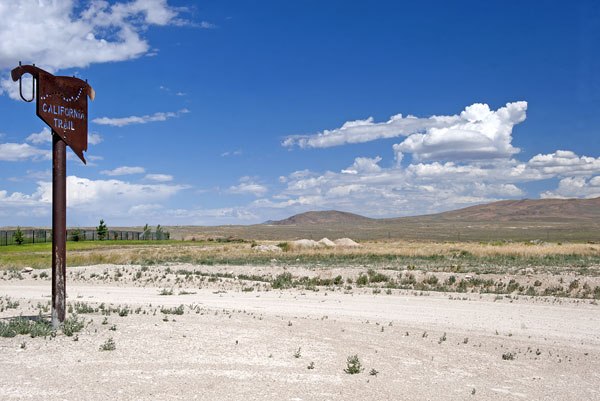 First there was the California Emigrant Trail...
where wagon trains rested and refitted at Humboldt Wells (now named Wells)
5 August 2010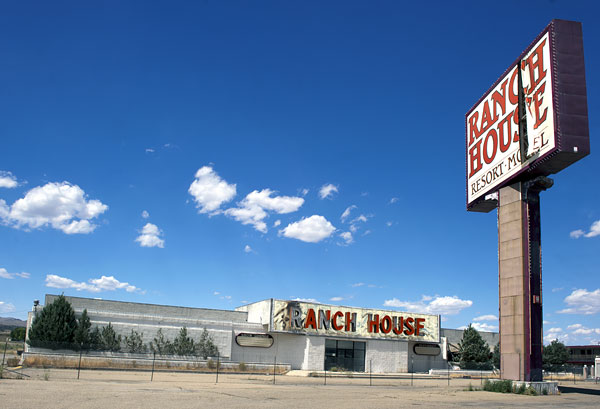 Then there was the Victory Highway (State Route 1)...
which became a section of the Lincoln Highway,
the first paved road to cross the United States...
which was renamed US 40...
which in the town of Wells intersected US 93
to bring tourists and gamblers from California and Idaho and Utah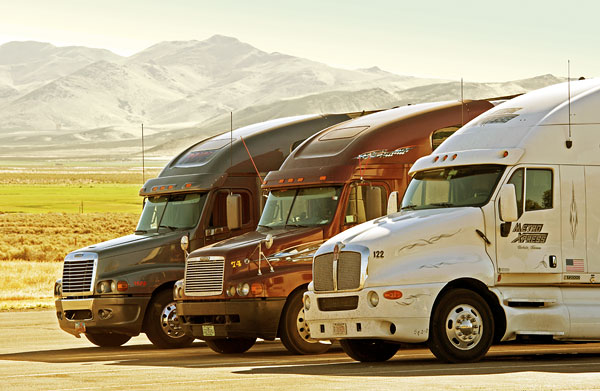 Then There Was I-80...
where 18-wheelers pass just south of Wells racing between California and Utah
All Photos Summer 2010
(Click Photos to Zoom)
The route of Interstate 80 was first used by California-bound travelers and was called the California Trail. From the Utah State line until modern Wells, I-80 follows a lesser used branch of the trail called
Hastings Cutoff
. The cutoff rejoins the main route of the trail near Wells. The main route of the California Trail is approximated by modern
State Route 233
in eastern Nevada.
From Wells west to Lovelock in Pershing County, I-80 faithfully follows the California Trail. West of Lovelock, in the middle of the Humboldt Sink, the California Trail again splits into two branches. These branches, the Carson River route and the Truckee River route, are named for the waterways that guide each branch up the Sierra Nevada mountains. I-80 follows the Truckee route, the Carson route is approximated by U.S. Route 95, U.S. Route 50, U.S. Route 395 and State Route 88/California State Route 88.
The route of modern I-80 was also previously used for the construction of two transcontinental railroads. The First Transcontinental Railroad, completed in 1869, closely followed the main line of the California Trail, and I-80 west of Wells. The Feather River Route was constructed in 1909, and generally follows the Hastings Cutoff through eastern Nevada. It also runs parallel to I-80 in Nevada east of Winnemucca.
Source: Wikipedia Interstate 80 in Nevada
For more about the history of Wells, see As The Tale Is Told.
| Name | Address | City | Year | Authority | ID | Sort Address | Sort Name |
| --- | --- | --- | --- | --- | --- | --- | --- |
| California Trail 15 | Goose Creek Road | Rural | | POI | | Goose Creeek | California Trail 15 |
| California Trail 16 | Goose Creek Road | Rural | | POI | | Goose Creeek | California Trail 16 |
| California Trail 17 | Goose Creek Road | Rural | | POI | | Goose Creeek | California Trail 17 |
| California Trail 18 | OHV Road | Rural | | POI | | OHV | California Trail 18 |
| California Trail 19 | OHV Road | Rural | | POI | | OHV | California Trail 19 |
| California Trail 20 | OHV Road | Rural | | POI | | OHV | California Trail 20 |
| California Trail 21 | County Road 763 | Rural | | POI | | 763-10 | California Trail 21 |
| California Trail 26 | US 93 | Rural | | POI | | 093-100 | California Trail 26 |
| California Trail 27 | OHV Road | Rural | | POI | | OHV | California Trail 27 |
| California Trail 27A | OHV Road | Rural | | POI | | OHV | California Trail 27A |
| California Trail 28 | OHV Road | Rural | | POI | | OHV | California Trail 28 |
| California Trail 28A | OHV Road | Wells | | POI | | OHV | California Trail 28A |
| California Trail 29 | OHV Road | Wells | | POI | | OHV | California Trail 29 |
| California Trail 30 | Upper Metropolis Road | Wells | | POI | | Upper | California Trail 30 |
| California Trail 31 | OHV Road | Wells | | POI | | OHV | California Trail 31 |
| California Trail 39 | Chestnut Street | Carlin Canyon | | POI | | Chestnut | California Trail 39 |
| California Trail 40 | Chestnut Street | Carlin | | POI | | Chestnut | California Trail 40 |
| California Trail 41 | State Route 278 | Carlin | | POI | | 278-10 | California Trail 41 |
| California Trail Interpretive Center | I-80 Hunter Exit 292 | Elko | | POI | | Highway 080 | California Trail Interpretive Center |
| Carlin | West Hamilton and B Streets | Carlin | | Nevada | 112 | Hamilton | Carlin |
| Carlin Canyon | Chestnut Street | Carlin Canyon | | Nevada | 50 | Chestnut | Carlin Canyon |
| Contact | Highway 93 | Contact | | Nevada | 260 | Highway 093 | Contact |
| Diamondfield Jack Davis | 1385 US 93 | Jackpot | | Nevada | 251 | Highway 093 | Diamondfield Jack Davis |
| Dinner Station | State Route 225 | Dinner Station | | Nevada | 244 | Highway 225 | Dinner Station |
| Duck Valley Indian Reservation | State Route 225 | Owyhee | | Nevada | 151 | Highway 225 | Duck Valley Indian Reservation |
| Elko | East Idaho Street in City Park | Elko | | Nevada | 106 | Idaho 1500 | Elko |
| Elko County Courthouse | 571 East Idaho Street | Elko | | National | 1992001259 | IdahoE 0571 | Elko County Courthouse |
| Elko Main Post Office | 275 Third | Elko | | National | 1990000133 | Street 03 | Elko Main Post Office |
| Fort Halleck | I-80 at Halleck Interchange | Halleck | | Nevada | 47 | Highway 080 02 | Fort Halleck |
| Gold Creek Ranger Station | FS Road NF-056 Near Gold Creek Road | Humboldt National Forest | | National | 1992001187 | NF-056 | Gold Creek Ranger Station |
| Greenhorn Cutoff 7 | Chestnut Street | Carlin | | POI | | Chestnut | Greenhorn Cutoff 7 |
| Hastings Cutoff 28 | Hamilton Stage Road | Rural | | POI | | Hamilton | Hastings Cutoff 28 |
| Hastings Cutoff 29 | Hamilton Stage Road | Rural | | POI | | Hamilton | Hastings Cutoff 29 |
| Hastings Cutoff 30 | Lower South Fork Road | Rural | | POI | | Lower South Fork | Hastings Cutoff 30 |
| Humboldt Wells | I-80 at Union Pacific Railroad Overpass | Wells | | Nevada | 45 | Highway 080 03 | Humboldt Wells |
| Jarbidge | Children's Park | Jarbidge | | Nevada | 69 | Park | Jarbidge |
| Jarbidge Community Hall | Main Street | Jarbidge | | Nevada | 153 | Main | Jarbidge Community Hall |
| Lamoille Organization Camp | FS Road 122 | Toiyabe National Forest | | National | 2007000553 | | Lamoille Organization Camp |
| Lamoille Valley | State Route 227 | Lamoille | | Nevada | 109 | Highway 227 | Lamoille Valley |
| Midas Schoolhouse | Second Street Two Blocks East of Main | Midas | | National | 2004000727 | Street 02 | Midas Schoolhouse |
| Oil From Shale | West Idaho Street Between Hot Springs Road and Mountain City Highway | Elko | | Nevada | 229 | Idaho | Oil From Shale |
| Pilot Peak | I-80, About Ten Miles West of Wendover | Wendover | | Nevada | 46 | Highway 080 04 | Pilot Peak |
| Ruby Valley Pony Express Station | 1515 Idaho Street | Elko | | Nevada | 108 | Idaho 1515 | Ruby Valley Pony Express Station |
| Ruby Valley Pony Express Station | 1515 East Idaho Street | Elko | | National | 1975001110 | Idaho E 1515 | Ruby Valley Pony Express Station |
| Terminus of the First Commercial Air Mail Route | Murray Way and Mountain City Highway | Elko | | Nevada | 107 | Murray | Terminus of the First Commercial Air Mail Route |
| Tuscarora | SR 226 at Midas-Tuscarora Road | Tuscarora | | Nevada | 48 | Highway 226 | Tuscarora |
| Unknown Soldiers | SR 233 at Cemetery Road | Montello | | Nevada | 73 | Highway 233 | Unknown Soldiers |
| West End of Hastings Cutoff | I-80 Exit 292 | Hunter | | Nevada | 3 | Highway 080 01 | West End of Hastings Cutoff |