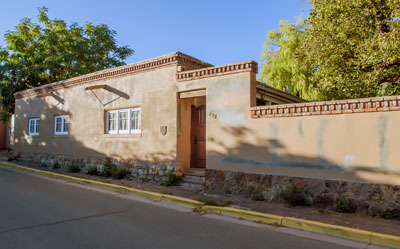 Typical of Spanish houses, the Crespín House reveals little of itself to the street. Photograph taken 7 August 2007.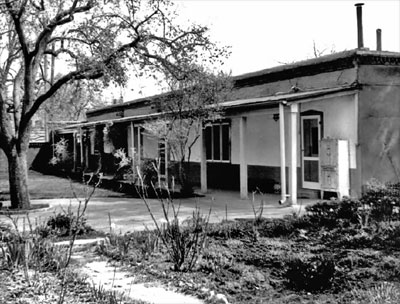 1963 Photograph Submitted with NRHP Nomination
(Click Photos to Zoom)
National Register #75001167
Gregorio Crespín House
132 East De Vargas Street
Santa Fe
Built c1720
Gregorio Crespín was born in Santa Fe about 1707. He built this adobe house on property that he inherited from his mother at the western end of the Barrio de Analco. Tree-ring specimens taken from vigas (beams) in the house indicate their cutting date as between 1720 and 1750.
In 1867, the house had five rooms and a portal.
In the 19th century, the firewalls were crowned with fired bricks in the Territorial architectural style.
By 1914, when the Van Stone family rented the house, it had been enlarged to twelve rooms.
The Van Stone family replaced the roof and poured cement footings around the base of the adobe walls. During this rehabilitation, the north wall collapsed and was replaced.
The original floors in the main rooms were wooden planks lying directly on the ground. Other rooms had only packed earth. The Van Stones placed fired bricks over the packed earth floors and polished hardwood flooring on top of the wooden planks.
In the early 20th century, a rectangular fireplace was added to the main room. All other rooms contained kivas, the traditional rounded adobe fireplaces.
Source: Adapted from the NRHP nomination submitted in 1975.

When we photographed the Gregorio Crespín House in 2007, it was a private residence.