California Historical Landmark 390
Bridgeport Covered Bridge Over South Fork of Yuba River
Pleasant Valley Road at the South Fork of the Yuba River
South of French Corral
Year 1862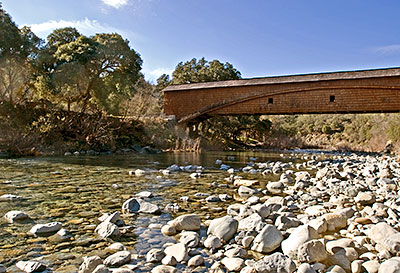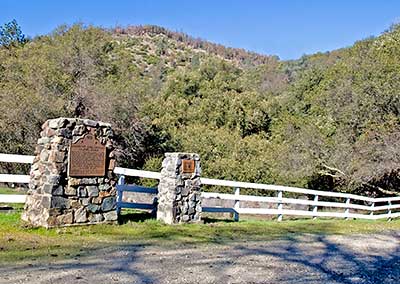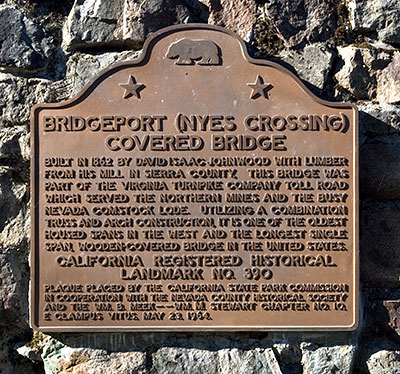 14 December 2005
(Click Photos to Zoom)
Bridgeport (Nyes Crossing) Covered Bridge
Built in 1862 by David Isaac John Wood with lumber from his mill in Sierra County, this bridge was part of the Virginia Turnpike Company Toll Road which served the northern mines and the busy Nevada Comstock Lode. Utilizing a combination truss and arch construction, it is one of the oldest housed spans in the West and the longest single span, wooden-covered bridge in the United States.
California Registered Historical Landmark No. 390
Plaque placed by the California State Park Commission in cooperation with the Nevada County Historical Society and the Wm. B. Meek -- Wm. M. Stewart Chapter No. 10, E Clampus Vitus, May 23, 1964

The Bridgeport Covered Bridge, also known as Nye's Crossing and Walker's Crossing, has three commemorative plaques dedicated in 1948, 1964 and 1973. It is both a California Historical Landmark and entry #71000168 in the National Register of Historic Places.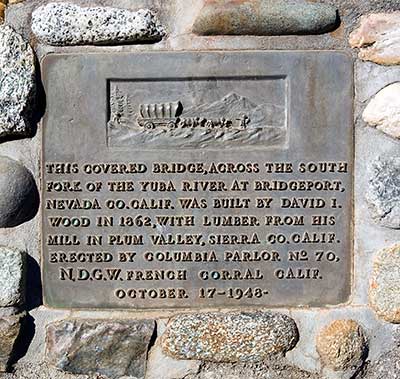 14 December 2005
(Click Photo to Zoom)
This covered bridge across the South Fork of the Yuba River at Bridgeport, Nevada Co. Calif. was built by David I. Wood in 1862, with lumber from his mill in Plum Valley, Sierra Co. Calif.
Erected by Columbia Parlor No. 70, N.D.G.W. French Corral Calif.
October 17 - 1948 -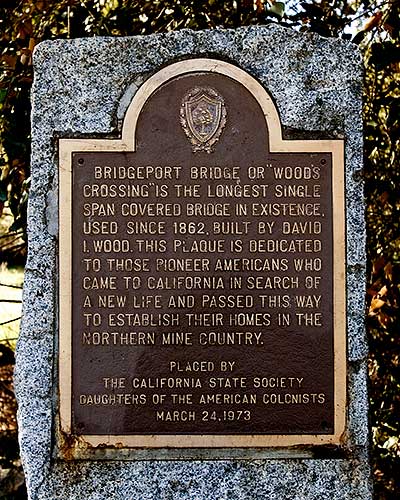 14 December 2005
(Click Photo to Zoom)
Bridgeport Bridge or "Wood's Crossing" is the longest single span covered bridge in existence. Used since 1862, built by David I. Wood. This plaque is dedicated to those pioneer Americans who came to California in search of a new life and passed this way to establish their homes in the northern mine country.
Placed by the California State Society
Daughters of the American Colonists
March 25, 1973