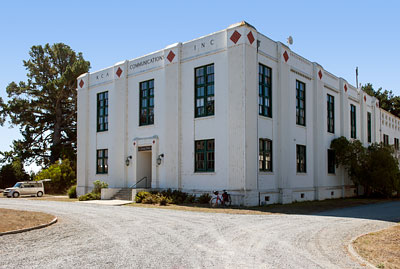 RCA Transmitter Building
24 September 2020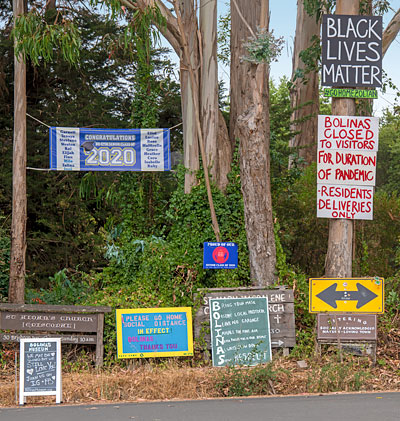 On your way to the Marconi-RCA site, you may encounter warnings to keep out of Bolinas. Do not be alarmed. You do not have to enter Bolinas to reach the site. Mesa Road is the northern border of Bolinas, and the Marconi-RCA site is not in Bolinas.
14 July 2020
(Click Photos to Zoom)
National Register #100002108
Marconi-RCA Transmitting Station
451 Mesa Road
Near Bolinas
Between 1913 and 1919, the Marconi Wireless Telegraph Company of America developed a worldwide wireless communications network. The groundbreaking technology used long wave radio to transmit Morse code telegrams. The facility enabled wireless communications between the United States, Hawaii, and Asia for the first time. The Bolinas Transmitting Station and the nearby Marshall Receiving Station were the only stations on the West Coast of North America.
Between 1913 and 1914, the Marconi Wireless Telegraph Company erected four Mission Revival buildings on this site: a transmitter building, a hotel, and two cottages. The site is one of four extant Marconi wireless stations in the continental United States: the one in Marshall and two on the east coast.
Between 1929 and 1931, the Radio Corporation of America erected an Art Deco transmitter building and several dependencies. The Mission Revival buildings are the only examples of Mission Revival architecture in Point Reyes National Seashore. The Art Deco buildings, along with those built by RCA at the Point Reyes Receiving Station, are the only examples of Art Deco architecture in the seashore.
The antenna field was constructed in 1914 when the Marconi Company built nine 300-foot towers. In the 1930s, the original antennas were removed, but the nine foundations remain. The antenna field has changed continuously with antennas being relocated, removed, added or altered according to technological advances and desired signal locations around the world. Historic antenna formations are still evident in the wood poles, support structures and antenna remnants
Adapted from the NRHP nomination submitted in 2018.