Historic Sites and Points of Interest in Lake County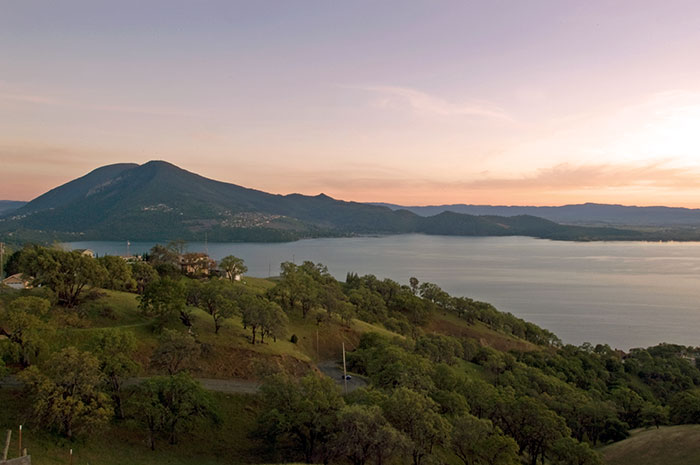 Clear Lake Viewed from Pearl Drive South of Lucerne
20 April 2009
Lake County is located north of the San Francisco Bay Area. It is named for Clear Lake, the largest natural lake wholly within California (Lake Tahoe is partially in Nevada). The 2010 census recorded a population of 64,665. The county seat is Lakeport.
Lake County was created in 1861 from parts of Napa and Mendocino counties. Vineyards were planted in the 1870s, and by the early 20th century, Lake County was producing some of the world's greatest wines. In 1920, Prohibition ended wine production. Most of the vineyards were ripped out and replanted with walnut and pear trees.
In the 1960s a few growers began planting vineyards. The area went from fewer than one hundred acres of vineyard in 1965 to over 8,800 acres today. American Viticultural Areas in Lake County are: Benmore Valley, Clear Lake, Guenoc Valley, High Valley, and Red Hills Lake County.
Adapted from Wikipedia.
| Name | Address | City | Year | Authority | ID | Sort Address | Sort Name |
| --- | --- | --- | --- | --- | --- | --- | --- |
| Battle Of Bloody Island | State Highway 20 and Reclamation Road | Upper Lake | 1850 | California | 427 | State Highway 20 Reclamation | Battle Of Bloody Island |
| Lake County Courthouse | 255 North Main Street | Lakeport | 1871 | California | 897 | North Main 255 | Lake County Courthouse |
| Lake County Courthouse | 255 North Main Street | Lakeport | 1871 | National | 1970000134 | North Main 255 | Lake County Courthouse |
| Lakeport Carnegie Library | 200 Park Street | Lakeport | | National | 2008000261 | Park 0200 | Lakeport Carnegie Library |
| Lower Lake Stone Jail | 16118 Main Street | Lower Lake | 1876 | California | 429 | Main 16118 | Lower Lake Stone Jail |
| Rattlesnake Island | 12900 Sulphur Bank Mine Road | Clearlake Oaks | | National | 2006001047 | Sulphar | Rattlesnake Island |
| Old Bull Trail Road and St. Helena Toll Road | State Highway 29 and Hill Avenue | Middletown | 1850 | California | 467 | State Highway 29 Hill | Old Bull Trail Road and St. Helena Toll Road |
| Stone And Kelsey Home | Main Street and Bell Hill Road | Kelseyville | 1849 | California | 426 | Main Bell | Stone And Kelsey Home |
| Stone House | State Highway 29 and Hidden Valley Road | Middletown | 1853 | California | 450 | State Highway 29 Hidden Valley | Stone House |
| Sulphur Bank Mine Site | State Highway 20 and Sulphur Bank Road | Clearlake Oaks | 1865 | California | 428 | State Highway 20 Sulphur | Sulphur Bank Mine Site |
| Tallman Hotel | 9550 Main Street | Upper Lake | | National | 2006000947 | Main 9550 | Tallman Hotel |