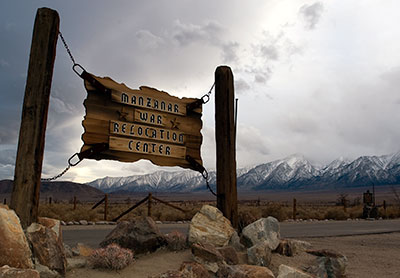 18 February 2007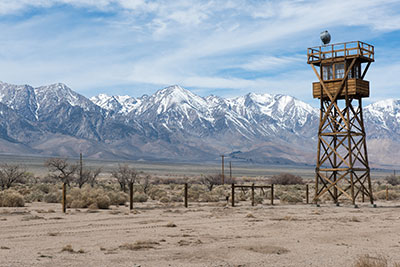 Guard Tower
4 March 2016
National Register #76000484
Manzanar Internment Camp
US 395
Six Miles South of Independence
On February 19, 1942, President Franklin D. Roosevelt signed Executive Order 9066, which authorized the Secretary of War to exclude citizens and aliens from certain designated areas as a security measure against sabotage and espionage. As a result, 110,000 persons of Japanese descent, most of them American citizens, were forcibly removed from their homes in California, Oregon, Washington, and Alaska, and removed to permanent camps far from the Pacific Coast.
Manzanar was the first of these camps.
Here, in a scrubby desert, ten thousand people were herded into barracks without being accused of any crime or given any hearing or a trial.
A long history of anti-Japanese agitation and legislation on the West Coast reached a climax.
Excerpted from the NRHP nomination submitted in 1976.

Manzanar is a National Historic Landmark and California Historical Landmark 850.