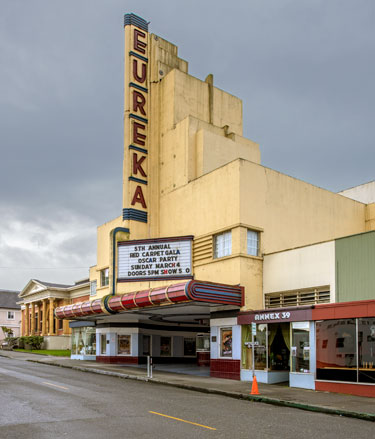 Carnegie Free Library
and Eureka Theatre
2 March 2018
(Click Photo to Zoom)
National Register #09001199
Eureka Theatre
612 F Street
Eureka
Opened 1939
During the Great Depression, theatre magnate George M. Mann anticipated that Humboldt County was eager for new entertainment opportunities. After building successful theaters in Fortuna and Arcata in 1938, completed the Eureka Theatre in 1939. Its streamline Art Moderne architecture was brilliantly lighted by red and blue and gold neon.
The new state-of-the-art movie palace screened recent releases to provide Eureka residents with the same entertainment enjoyed by urban patrons in San Francisco.
Adapted from the NRHP Nomination submitted in 2009.