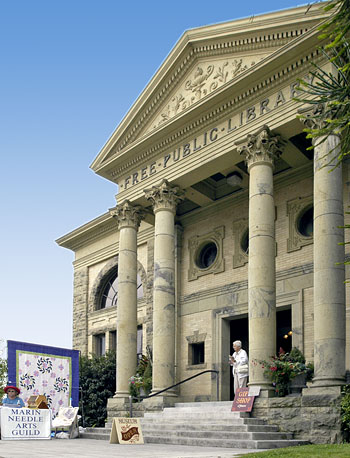 Carnegie Library
in Petaluma, California
14 August 2004
(Click Photo to Zoom)
Brainerd Jones was an American architect who designed and built most of the architecturally significant buildings in Petaluma, California.
Jones is best known for designing three Carnegie libraries in Sonoma County, two of which are still remain standing and listed on the National Register of Historic Places (Healdsburg & Petaluma).
Jones also has seven other buildings which he contributed to and nine of which are on the National Register.
Source: Wikipedia
Year
Address
City
Sort Address
Sort Name
Bolton House
1903
966 Sonoma Avenue
Santa Rosa
Sonoma 0966
Bolton House
Columbarium at Cypress Hill Memorial Park
430 Magnolia Ave
Petaluma
Magnolia 0430
Columbarium at Cypress Hill Memorial Park
Comstock House
1905
767 Mendocino Avenue
Santa Rosa
Mendocino 0767
Comstock House
Elixir Bar Building
1907
3200 16th Street
San Francisco
Street 16 3200
Elixir Bar Building
Ellis-Martin House
1908
1197 East Washington Street
Washington E 1197
Ellis-Martin House
Healdsburg Carnegie Library
1911
221 Matheson Street
Healdsburg
Matheson 0221
Healdsburg Carnegie Library
Lumsden House
1901
727 Mendocino Avenue
Santa Rosa
Mendocino 0727
Lumsden House
McNear Building Addition
7 Fourth Street
Petaluma
Street 04 0007
McNear Building Addition
McNear House
1906
121 Knight Drive
San Rafael
Knight Drive 0121
McNear House
Must Hatch Incubator
401 Seventh Street
Petaluma
Street 07 0401
Must Hatch Incubator
Petaluma Carnegie Library
1906
20 Fourth Street
Petaluma
Street 04 0020
Petaluma Carnegie Library
Petaluma Firehouse
D Street and Petaluma Boulevard
Petaluma
Street D
Petaluma Firehouse
Petaluma Golf and Country Club
1924
1500 Country Club Drive
Petaluma
Country Club
Petaluma Golf and Country Club
Petaluma Opera House
1870
145 Kentucky Street
Petaluma
Kentucky 0145
Petaluma Opera House
Petaluma Post Office
22 to 34 Petaluma Boulevard North
Petaluma
Petaluma 0022
Petaluma Post Office
Petaluma Silk Mill
1892
420 Jefferson Street
Petaluma
Jefferson 0420
Petaluma Silk Mill
Philip Sweed School
331 Keller Street
Petaluma
Keller 0331
Philip Sweed School
Pinschower House
1901
302 North Main Street
Cloverdale
Main N 0302
Pinschower House
Residence
101 Seventh Street
Petaluma
Street 07 0101
Residence
Residence
701 7th Street
Santa Rosa
Street 07 0701
Residence
Residence
609 C Street
Petaluma
Street C 0609
Residence
Residence
617 C Street
Petaluma
Street C 0617
Residence
Residence
641 C Street
Petaluma
Street C 0641
Residence
Residence
823 C Street
Petaluma
Street C 0823
Residence
Residence
910 C Street
Petaluma
Street C 0910
Residence
Residence
1040 C Street
Petaluma
Street C 1040
Residence
Residence
901 D Street
Petaluma
Street D 0901
Residence
Residence
818 Cherry Street
Santa Rosa
Cherry 0818
Residence
Residence
226 Liberty St
Petaluma
Liberty 0226
Residence
Residence
1500 Western Avenue
Petaluma
Western 1500
Residence
Reynaud House
1924
47 Sixth Street
Petaluma
Street 06 0047
Reynaud House
Sebastopol Depot
1917
261 South Main Street
Sebastopol
Main S 0261
Sebastopol Depot
Sibbold-Donavan House
725 College Avenue
Santa Rosa
College 0725
Sibbold-Donavan House
Sonoma Valley Woman's Club
574 1st Street East
Sonoma
Street 01 0573
Sonoma Valley Woman's Club
Tomasini House
1929
625 D Street
Petaluma
Street D 0625
Tomasini House