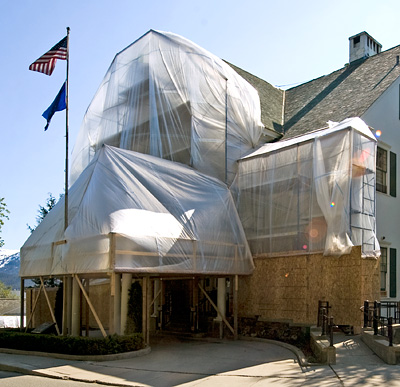 The day we visited the Governor's Mansion, it was wrapped in translucent sheeting.
Renovation? Repairs?
Site-specific art? Lady Gaga tribute?
Just going rogue?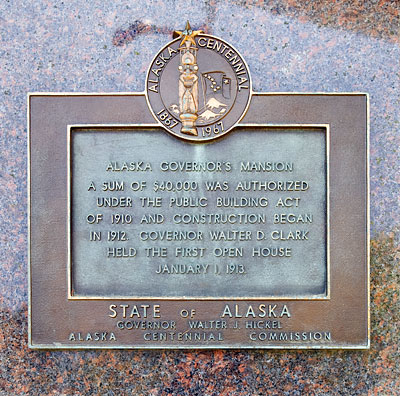 Photos Taken 20 May 2011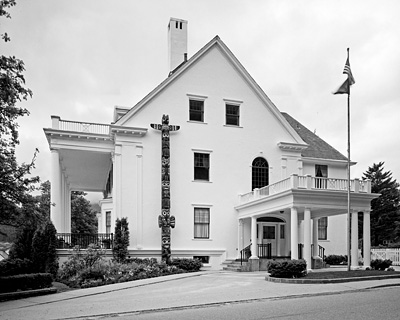 Summer 1991
Photograph from Historical American Buildings Survey
(Click Photos To Zoom)
National Register #76000359
Alaska Governor's Mansion
716 Calhoun Avenue
Juneau
Built 1912
The following narrative is paraphrased from the National Register Nomination for the Alaska Governor's Mansion.
The first occupants of the Alaska Governor's Mansion were Territorial Governor Walter E. Clark and his family who moved in on 1 January 1913.
The site had been reserved in 1911 by Executive Order of the President of the United States. Designs and detailed construction drawings had been signed 7 July 1911, by architect James Knox Taylor. When invitations to bidders were published, all bids exceeded the limit set for the contract in the Public Buildings Act of 1910.
The invitation was republished 1 December 1911 with a of $40,000 for the construction and furnishings. It has not been established whether construction was by contract or by day labor under direct government agency supervision. The latter appears to have been the case. Construction proceeded during the spring, summer and autumn of 1912.

A commemorative plaque in front of the building reads:
Alaska Governor's Mansion
A sum of $40,000 was authorized under the Public Building Act of 1910 and construction began in 1912. Governor Walter D. Clark held the first open house January 1, 1913.
State of Alaska
Governor Walter J. Hickel
Alaska Centennial Commission