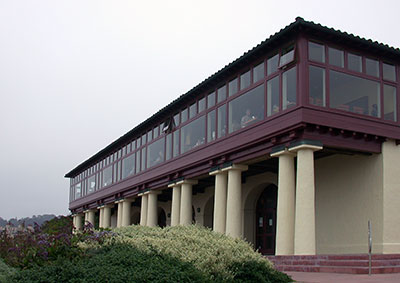 29 March 2002
National Register #81000172
Beach Chalet
1000 Great Highway
Built 1925
The Beach Chalet, designed by Willis Polk, stands on the Great Highway facing the cold and foggy Pacific at the western extreme of Golden Gate Park, at the western extreme of America.
Lucien Labault painted the many Beach Chalet frescos depicting life in San Francisco during the Great Depression including scenes at The Embarcadero, Fisherman's Wharf, Baker Beach, Golden Gate Park, Land's End, the Marina, Downtown, and Chinatown.
For more information about the Beach Chalet, please see San Francisco Landmark 179.